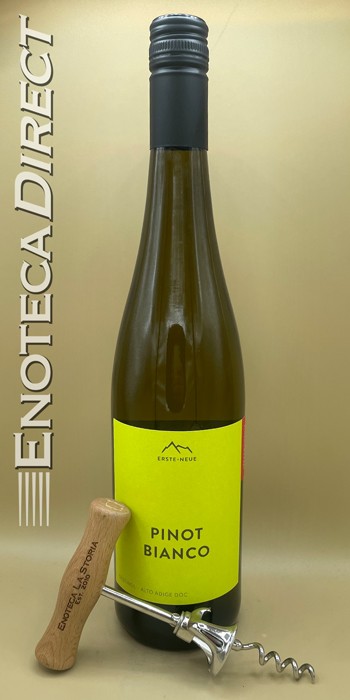 2020 Erste + Neue Pinot Bianco
Alto Adige, Italy
100% Pinot Bianco aka Pinot Blanc aka Weissburgunder from 20-25 year old vines. Erste + Neue is a co-operative winery brining together fruit from many farmers all of whom practice organic viticulture. The grapes undergo controlled low temperature fermentation in stainless steel fermentors. The wine is then aged 4 months in stainless steel on the lees to maintain freshness and impart a little extra texture.
Tasting Notes: In the Alto Adige, Pinot Bianco is taken very seriously, making minerally, savory whites that we love to drink with food. E+N's classic Pinot Bianco is a great example, showing aromas of Granny Smith apple and wet stones, with hints of citrus and herbs. The fresh palate features yellow pear, nectarine, and hazelnut alongside bright acidity.
About Erste + Neue: The Alto Adige (or Süd Tyrol, as it's called by the German-speaking inhabitants) is known for high-quality large, co-operative wineries such as Erste + Neue, which is right in the center of Caldaro, one of the small towns on the 'Wine Road' south of Bolzano. 'Erste+Neue' means 'First+New'. The name represents the merger of the first ('erste') co-op cellar in Caldaro, which was founded in 1900, and the newest ('neue') co-op cellar after the Alto Adige became a part of Italy in 1919, which was founded in 1925. The two co-ops united under one label in 1986. In 2016 Erste+Neue incorporated a third co-op, Cantina Kaltern, but decided to continue operating under the name Erste+Neue. Gerhard Sanin, the enologist for E+N, favors a bright, restrained winemaking style that really allows this place and the grape varieties to shine. The winery is "Fair N' Green" Certified for Sustainable Viticulture, the grapes come from 400+ small growers, all practicing organic viticulture.