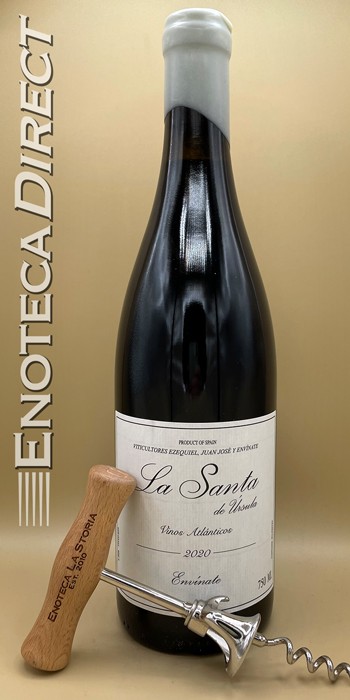 2020 Envínate La Santa de Úrsula Tinto
Canary Islands, Spain
Envínate ("wine yourself") is the brainchild of Laura Ramos, Jose Martínez, Roberto Santana and Alfonso Torrente, four friends who met while studying wine making at the University of Miguel Hernández in Alicante. Their work, both in the vineyard and winery, is currently focused on exploring the ancient, Atlantic-infused terruños of Ribeira Sacra and the Canary Islands, as well as exceptional vineyard plots across the Iberian Peninsula. The Envínate philosophy is simple: let each parcela, or single parcel, fully express itself in the finished wine by utilizing old-fashioned farming and winemaking methods. The results are some of the most exciting wines being produced in Spain today.
La Santa de Úrsula hails from Tacoronte-Acentejo, an appellation on the Anaga peninsula on the northeast coast of Tenerife that is noted for its terraces, steep hillsides, rich red soils, and humid climes. From three parcels of 100+ year-old vines in the La Corujera area, ranging from 350-650m. Vines are planted on sandy clay over red basalt bedrock. 48% Negramoll, 50% Listán Negro, 2% Listán Blanco. Bottling is without fining or filtration, and only a small addition of sulfur. Another amazing blend from Envínate, beautiful bright fruit, strawberries and bing cherries with loads of fresh herbal aromatics and smoky minerality. Only 5500 bottles made.
95 points, Robert Parker's Wine Advocate. "This is 15% carbonic maceration, with the rest still whole bunch but foot trodden. Fine, pure red fruits nose is very lively, quite expressive, and distinctly mineral. The palate is supple, fine, bright and juicy with red cherries, plums, raspberries and good structure."

Wine Specs
Appellation
Canary Islands