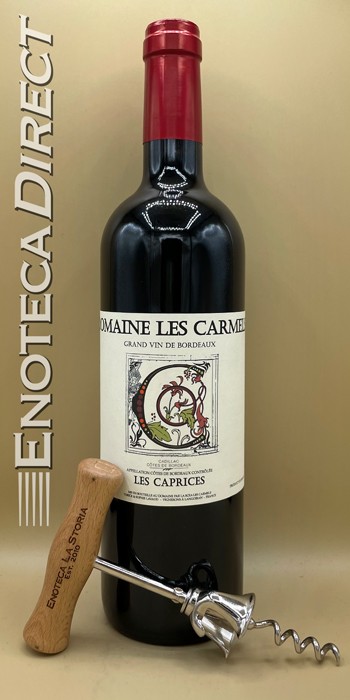 2020 Domaine les Carmels Cadillac, Côtes de Bordeaux "Les Caprices"
Bordeaux, France
100% Merlot. Organic farming (certified since 2010), with biodynamic methods. 100% de-stemmed but lots of whole grapes. 4 to 6 months aging in stainless steel, 1 to 2g of SO2 added only at bottling. Vines planted in the early 1980s and part in the early 2000s.
Bordeaux and its neighboring appellations have never been at the forefront of the organic and biodynamic movements. So it's always wonderful to find a delicious, affordable wine such as this made by a young, passionate family winery.
Tasting Notes: Deep ruby color; opens to cherry, plum, flowers on the nose. Black cherry, plum, blackberry, blackcurrant, leather, cedar, soft spices on the palate. Some dry dusty tannins on the bright, balanced finish.
About Domaine les Carmels: Sophie and Yorick Lavaud both originally from the Bordeaux area, met in in wine school in 2007. After their studies, Yorick worked for Rothschild and was responsible for sourcing wine for them. He frequently scoured the Entre-Deux-Mers and knew the terroirs well. In 2009, he found a 17-hectare property for sale. It was only one-third planted to vines, which made it undesirable to the local large vineyard owners. And there were no buildings on it. So the young couple was able to finance the purchase and construction of their house and winery through a bank loan and European grants for young entrepreneurs.
The couple have managed the vineyards organically from the beginning and follow biodynamic precepts. There are currently 6 hectares of vines, 5 hectares of pastures, and 6 hectares of protected woods. In one of the pastures, the couple has planted 50 varieties of fruit trees as a test. Once they know which ones work well on their site, they plan to plant an orchard.
Cadillac Côtes de Bordeaux is a sub-region of Entre-Deux-Mers. It begins almost directly east of Bordeaux and forms a 60-km long, but fairly narrow, band of vineyards that hugs the right bank of the Garonne river. (It is basically the right bank mirror appellation to the left bank's Graves and Pessac-Leognan.) The total area under vines is 1,000 hectares. The authorized varieties are: Merlot, Cabernet Sauvignon, Cabernet Franc, Malbec.