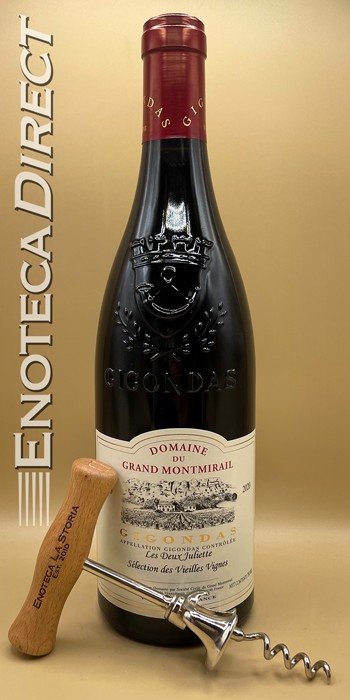 2020 Domaine du Grand Montmirail Gigondas "Les Deux Juliette"
Rhône, France
This cuvée is named after the daughters of the producer (Yves Chéron) and the importer (Charles Neal), both of whom have girls named Juliette. The blend is 80% Grenache from 55 to 65-year-old vines, 15% Syrah and 5% Mourvèdre from 30-year-old vines. The altitude of the vineyards varies between 300 and 350 meters—among the highest in Gigondas, something that helps the wine retain freshness. An ideal combination of clay and limestone soils combination give Grand Montmirail its round, approachable texture. Only indigenous yeasts are used. The addition of sulfur is kept to a minimum and filtration is extremely light. The nose emits explosive aromas of kirsch, stone fruits, licorice, pepper, suave baking spices and a slightly floral character, perhaps violets. It has a supple texture that shows plenty of elegance, and a wonderfully long and satisfying finish.
Originally from Burgundy, Denis Cheron bought the Cave du Grand Comtadiné in Vacqueyras in the 1960's. There he vinified grapes for scores of local producers and created a negoçiant firm called Pascal. One of Denis' suppliers was the owner of the Domaine du Grand Montmirail, a wonderfully situated property in the southeastern part of Gigondas. When this supplier retired, offers came in from all directions for this optimal piece of land. But rather than take the highest offer from a stranger, the owner rewarded Denis for his financial allegiance and allowed him to purchase the house and property.