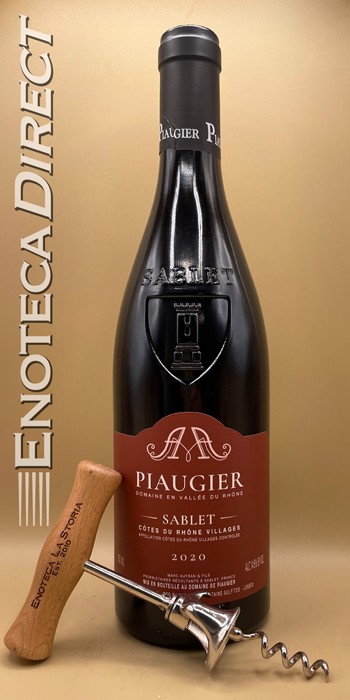 2020 Domaine de Piaugier Côtes du Rhône Villages-Sablet
Rhône, France
We love Grenache! This is 80% Grenache and 20% Syrah, from sand, clay and silt soil with 25-year-old vine age. The grapes undergo a 21-day fermentation period, with the Grenache in cement tank and the Syrah in 3- to 4-year old barrels. Seriously gulpable juice!!
Tasting Notes: This light/medium-bodied wine jumps out of the glass with aromas of dark red and blue fruits, dried flowers, and crushed pepper. The palate sings with soft raspberry and blueberry and has a pleasant smoothness that belies its underlying rusticity. This drinks beautifully on its' own, but is also amazing with pizza!
About Domaine de Piaugier: Domaine de Piaugier's vineyards are located in and around the village at the foot of the jagged Dentelles de Montmirail in the Vaucluse department. Here Jean-Marc Autran, son, grandson and great-grandson of wine growers, produced his first wine in 1985. It was made in the cellars built in 1947 by his great-grandfather Alphonse Vautour. Supported by his father, Jean-Marc increased the size of the domaine and began the sale of bottled wine. Soon the cave was too small, and Jean-Marc decided to enlarge once again in 1995. Along with his wife Sophie, Jean-Marc now cultivates 30 hectares of vines: 3.5 hectares of Gigondas, 12.5 hectares of Sablet, and 14 hectares of Côtes du Rhône.