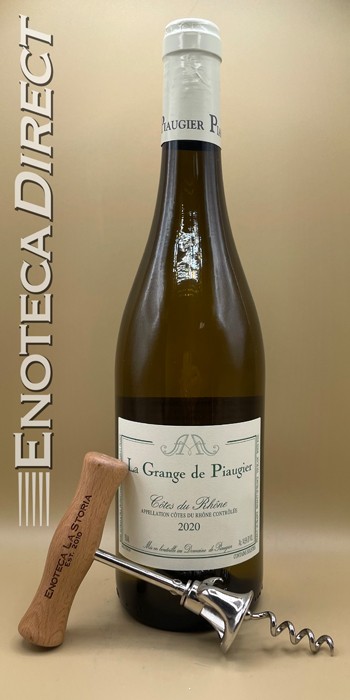 2020 Domaine de Piaugier Côtes du Rhône Blanc "La Grange de Piaugier"
Rhône, France
A white Rhône field blend, with primarily Grenache Blanc, then Roussanne and Viognier, from argile-limono-sableuse soils. Aged only in stainless steel. Farmed using organic methods and grapes are harvested by hand. Many of you are familiar with the wines of Domaine de Piaugier, as we have done very well with their Sablet Rouge as well. This white literally smells like a peach orchard surrounded by wildflowers. One sniff and one sip, and we bought every bottle our distributor had.
Tasting Notes: Though unoaked, this rare white Rhône is complex and full-bodied, and there's something for everyone here. Lovely aromas of spring flowers lead to a rich, almost oily palate, but the underlying fresh backbone makes it a food wine—try it with mushroom risotto or roast chicken.
About Domaine de Piaugier: Domaine de Piaugier's vineyards are located in and around the village at the foot of the jagged Dentelles de Montmirail in the Vaucluse department. Here Jean-Marc Autran, son, grandson and great-grandson of wine growers, produced his first wine in 1985. It was made in the cellars built in 1947 by his great-grandfather Alphonse Vautour. Supported by his father, Jean-Marc increased the size of the domaine and began the sale of bottled wine. Soon the cave was too small, and Jean-Marc decided to enlarge once again in 1995. Along with his wife Sophie, Jean-Marc now cultivates 30 hectares of vines: 3.5 hectares of Gigondas, 12.5 hectares of Sablet, and 14 hectares of Côtes du Rhône.