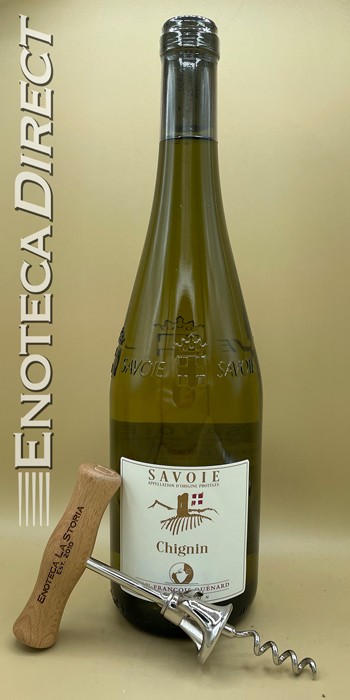 2021 Domaine Jean-François Quénard Chignin
Savoie, France
We're bringing the Alpine ski chalet to you! 100% Jacquère from 40-year-old vines planted on clay and limestone soils. Fermentation is in stainless steel tanks, with partial malolactic fermentation.
Tasting Notes: It has wonderful texture for a mountain wine, and shows notes of dried apricot, a touch of nut, minerals and white pepper. A crisp, dry finish completes the package. Delicious, great value white for sipping anytime.
About Domaine Jean-François Quénard: This small domaine lies in one of the most beautiful spots of Chignin, next to the Tour Villard (part of the ruined Château de Chignin). After many years of family winemaking history here (since 1644!), Jean-François Quénard took over responsibilities from his father Jean-Pierre in 1987. Having already studied at wine school in Dijon, Burgundy (incidentally, with Yves Chéron from Domaine du Grand Montmirail in Gigondas) Jean-Francois also later studied winemaking in Bordeaux and California. He was joined by his wife Catherine, and together they gradually grew the domaine from its original 5-hectare size. More recently one of their 4 children, Anne Sophie, got her viti-vinicultural degree from the prestigious Beaune wine school and joined her parents. Today the domaine is comprised of 19 hectares sitting on the region's typical limestone-clay, optimally exposed slopes. They are well on their way to full organic conversion, and even before taking that step have always treated their vineyard land with the utmost respect. Yields are kept low, harvests are by hand, and each parcel is vinified separately using indigenous yeasts.