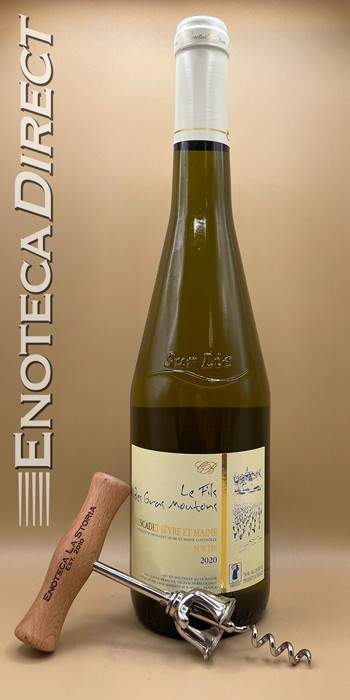 2020 Dom. Claude Branger Muscadet Sèvre-et-Maine Sur Lie "Le Fils des Gras Moutons"
Loire Valley, France
100% Melon de Bourgogne, Certified Organic. This is the domaine's excellent base wine coming from 26 acres of vines in earlier maturing plots. The soil runs from 10 to 16 inches deep and the granite bedrock is metamorphic gneiss full of mica and quartz. These vines average 40 years of age, and the wine rests on its lees for six to seven months before bottling.
For those who like white wine that falls on the austere side of the spectrum–and I mean that in the best of senses–wine that favors detailed verticality in place of opulence, then good Muscadet is one of the best white wine values in the world.
Tasting Notes: Fresh, intense, lemon-lime citrus, and wet stone aromas with hints of saline, orange peel and bready spice notes rising out of the glass. It's light and well balanced on the palate with with great acidity. It finishes with lovely oyster-shell minerals and tart lemons with excellent length.
About Domaine Claude Branger: Claude Branger is a tall, soft-spoken gentleman with silver hair. He dresses neatly and modestly, and there is about him, as there is about his wines, a clear sense of refinement. His grandfather founded the estate as Haute Févrie during the First World War. Today, along with his son, Sébastien, they farm close to 70 acres in two parishes in the heart of the Muscadet Sèvre et Maine appellation. Claude was an early member of Terra Vitis, an organization that sets guidelines for sustainable farming and monitors its members' practices to ensure compliance. Subsequently, Sébastien embarked the domain on the road to full-fledged organic farming. The first parcels received certification in 2016 and by vintage 2019 all of the domain's parcels were fully certified.
The father and son team prunes its vines for low yields, harvests by hand (a rarity in this land of machine harvesting), and lets its wine rest on the lees until bottling, which is done without fining and with a light filtration—the classic sur lie technique. It's this technique that gives good Muscadet wine its freshness and lift. Contrary to popular opinion, Melon is not, if allowed to ripen properly, naturally high in acid; it's the lees contact and the resulting CO2 gas that give the wine its crisp spice and zest.
Wine Specs
Varietal
Melon de Bourgogne
Appellation
Muscadet Sèvre et Maine