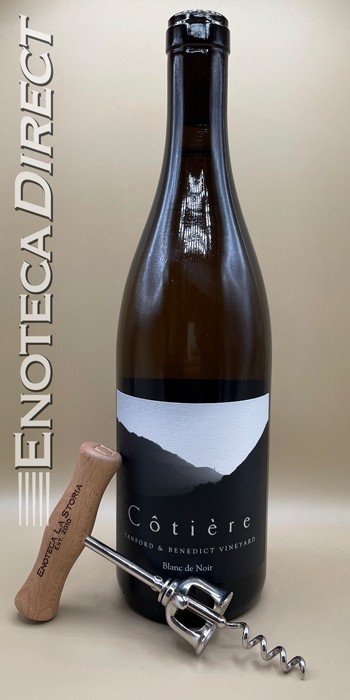 2020 Côtière Blanc de Noir 'Sanford & Benedict Vineyard'
Santa Rita Hills, California
Honestly, this is one of the most interesting and unique domestic whites that I have come across in some time. I mean, you find Champagnes, also called Blanc de Noirs, made from Pinot Noir, but I can't remember ever tasting a STILL white wine made from 100% Pinot - and this just ain't ANY Pinot, it's from the Sanford & Benedict vineyard, down in the Santa Rita Hills AVA, which is considered to be one of the top vineyards IN THE COUNTRY for Chardonnay and Pinot Noir…which makes this wine all that much more special – and cool – in my opinion. And the price is SO reasonable for fruit of this pedigree. Don't know HOW Kevin pulled this off. But why ask why??
Because we supported this wine last year, we were among a handful of folks who were able to get some of the 2020 vintage (because production was way down in 2020). We've got 3 CASES available. That's it. It's SOLD OUT at the winery!
100% Pinot Noir from the prestigious Sanford & Benedict vineyard in the Sta Rita Hills down in the Central Coast. The free run juice was separated off the sorting table and native-fermented separately in stainless barrels. Previously bottled as a rosé, but since the previous vintage was such a big hit and so unique and delicious, Kevin decided to make it as a Blanc de Noirs again. Resulting in a beautifully complex white wine from Pinot Noir. LESS THAN 40 cases made!
This vibrant wine captures all of the richness and character of this acclaimed site. It is creamy, yet lively in texture. Offers aromas and flavors of yellow stone fruit, dried flowers, chamomile and mint. It is beautifully layered and complex with a long, satisfying finish.
Pair this unique white with mild, buttery or creamy dishes, such as meaty fish (halibut, cod) and shellfish (lobster, shrimp, crab, scallops.) and with subtly flavored, simply seasoned poultry and pork dishes. Anything with truffles or mid mushroom will also pair well – like mushroom risotto!
This is the kind of winemaker and wine with whom we are proud to partner and support.
Wine Specs
Appellation
Santa Barbara County