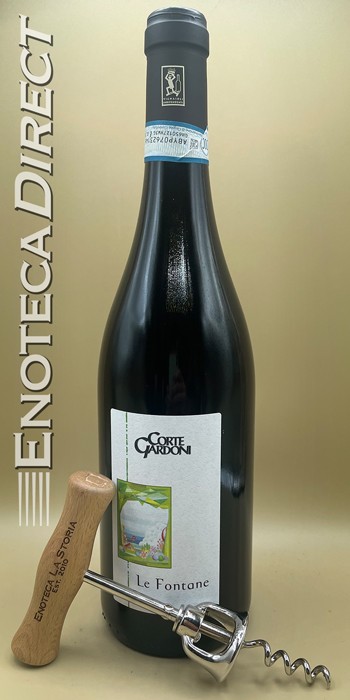 2020 Corte Gardone 'Le Fontane' Bardolino
Veneto, Italy
60% Corvina and 40% Rondinella. Fifteen to fifty year old vines. Vines are sustainably farmed. WIne is fermented and aged in stainless steel tanks.
Tasting Notes: The wine is irresistible and charming, marked by explosive aromatics. In the mouth it is light and soft with bright juicy red and blue fruits, with subtle herbal notes to add complexity. Pair this wine with just about anything, it is unbelievably versatile, but a particularly great pizza wine.
Winery Notes: The story of Gianni Piccolo, and Corte Gardoni, begins in 1971 when Gianni purchased 25 ha of vineyards in Valeggio sul Mincio Verona, in the Veneto in northeast Italy, right by Lake Garda. Initially Gianni sold his grapes to the local cooperatives, however in 1980 he decided to start producing his own, terroir driven wines. The Piccolis' vineyards occupy 23 hectares, while the rest of the property encompasses orchards, forests, olive trees, and arable land, from which the family also produces fruit, olive oil. Gianni passed away in 2020 with nearly fifty vintages under his belt at the helm of Corte Gardoni. In the process, he became a local hero and proud ambassador of Bardolino and its terroir, setting the stage for a new generation to follow in his path creating humble, delicious wines from native grapes that speak to the region and its traditions. Today the estate is run by his three sons, Mattia, Stefano and Andrea.