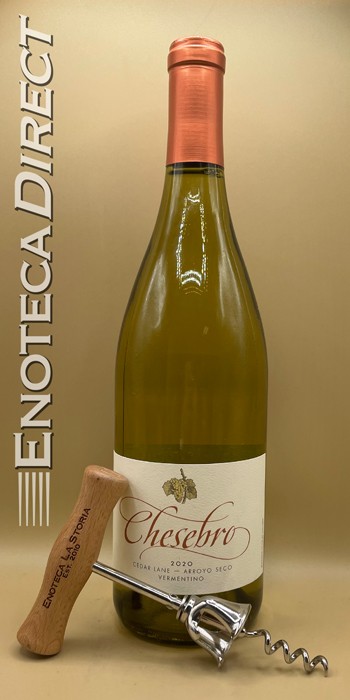 2020 Chesebro Vermentino 'Cedar Lane Vineyard'
Arroyo Seco, California
Grown in Sardinia, Corsica and Liguria, Italy, this rare California version is Chesebro's Signature White. The Cedar Lane Vineyard is just a few yards south of the famed Santa Lucia Highlands bench on the dry streambed floor (the Arroyo Seco), loaded with rounded river rocks varying in size down to fine grains of sand. Almost no topsoil, with sand filling in gaps around all the rocks, it is a terrible place to try to dig a hole. It is ideally well-drained, and produces wine grapes with concentrated flavors, has 6 extra weeks of hang-time and supplies fruit to several wineries including Duckhorn, Morgan and Bernardus. It is located at the bottom of a sheer cliff, the driveway down hugging a 100-foot high vertical drop-off from the Santa Lucia Highlands bench, directly to the north. Only 105 cases.
Tasting Notes
Smooth and light on the palate with mouthwatering acidity. It is aromatically complex with citrus, herbal and often floral notes. It reveals aromas of pears, apple blossoms and hints of cilantro, a creamy light body and a long juicy finish.
About Chesebro
Mark Chesebro is the former winemaker for Bernardus Winery of Carmel Valley from 1999-2005, and continues there as Consulting Winemaker, using a non-interventionist approach. His love of fine dining flavors began early, growing up with wine at the family dining table (European parentage), began making beer for the family at age 12, and later had his own artisan cheese dairy. Wine eventually became his focus, leading to an Enology degree from UC Davis and a career of winemaking. All Chesebro vineyards are Certified California Sustainable. A career winemaker, Mark grows grapes in his 3 vineyards specifically to meet the needs of winemakers: low yields, conscientious management without pesticides or herbicides, hand-harvesting. His winery is located at the Chesebro CM Ranch Vineyard in Carmel Valley, 7 miles from the Ocean, yet 25 miles up the Carmel Valley. At 1,500 feet elevation, it has Rhone-like terroir, late budding and late-harvesting (October to late November), excellent drainage, low- nutrient-soil and deep vine rooting.