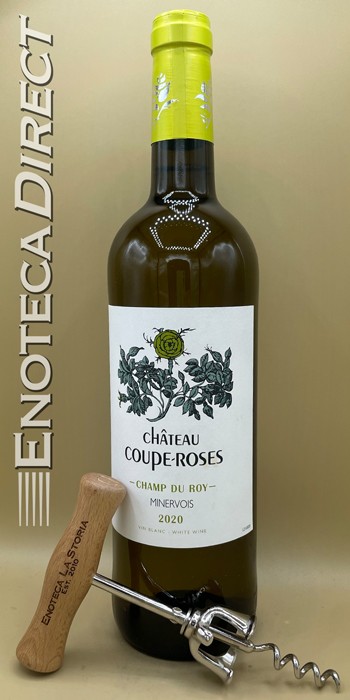 2020 Château Coupe Roses Minervois Blanc "Champ du Roy"
Languedoc-Rousillon, France
Springtime in a Glass! 70% Grenache Blanc, 30% Muscat Petits Grains, Certified organic. From vineyards on rocky hillsides of limestone and clay at 850 to 1400 feet above sea level. Hand-picked, destemmed, light pipeage. Aged 4 months in stainless steel, no oak. Champ du Roy refers to the King's Field.
Tasting Notes: The wine features remarkably complex aromas of anise, orange blossom and peach. The medium-bodied palate fills the mouth with citrus zest and a stony, mineral freshness. So fresh and delightfully floral, the nose draws you in, and then the mouth-watering palate draws you in for another sip!
About Coupe Roses: The Le Calvez family manage Château Coupe Roses high in the Mediterranean hinterlands. The winery was founded just in 2008 but the Le Calvez family has been here for 12 generations. Their vineyards are in Le Causse and Le Petit Causse, the highest growing zones in the Minervois appellation. At 750 to 1,350 feet above sea level, these zones have relatively cool nights and the growing season is the longest in the AOC. The wines from Coupe Roses have excellent acidity and freshness, without any plodding, overripe character that can be typical of vineyards at lower elevations. François Serre, consulting enologist at Château Rayas in Châteauneuf-du-Pape, has been the consulting at Coupe Roses since 1991.