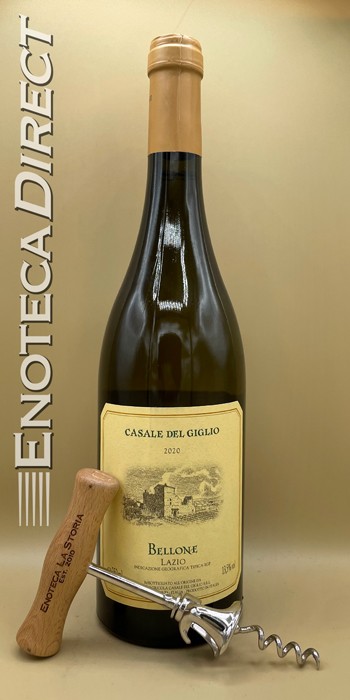 2020 Casale del Giglio 'Bellone'
Lazio, Italy
100% organic Bellone, fermented on native yeasts in stainless steel with no malolactic fermentation.
Deep yellow flecked with gold. The wine evokes sunshine and ripe tropical fruit such as mango and papaya, carefully balanced by a marked acidity which makes it suitable for long bottle aging. Rich, ample and lingering on the palate with light floral and spicy notes. Hallmarked by its pronounced acidity and zesty tang. A long finish.
Because of its pronounced acidity, this is a great food pairing wine, so you need not be shy in the kitchen! Creamy pasta dishes, poultry, seafood, soups and chowders work wonders.
Casale del Giglio was founded in 1967 by Dr. Berardino Santarelli, a native of the Appenine hill town of Amatrice. The estate lies between the towns of Aprilia and Latina in the Agro Pontino valley, some 50 kms. south of Rome. Unlike other parts of the Latium region, or other regions of Italy, this territory was still uncharted in viticultural terms when Berardino Santarelli and his son Antonio launched their research project in 1985.
Endorsed by the Agricultural Department of Latium's Regional Government, the project involved researchers of international standing, many of whom still contribute to Casale del Giglio's research today; Prof. Attilio Scienza from Milan University's 'Istituto di Coltivazioni Arboree', Prof. Angelo Costacurta from the 'Istituto Sperimentale per la Viticoltura di Conegliano' (Treviso) and Prof. Fulvio Mattivi from the Research & Innovation Centre at the 'Fondazione Edmund Mach' – 'Istituto Agrario Provinciale San Michele all'Adige' (Trento) – where Casale del Giglio's winemaker, Paolo Tiefenthaler, was trained.
Since the project aimed at identifying and maximizing the territory's potential for quality viticulture, useful comparisons were made with processes adopted in Bordeaux, California and Australia, wine producing areas of the world influenced, like the Agro Pontino valley, by a maritime climate.
Casale del Giglio subscribes to the philosophy that "the future of Italian viticulture relies not only on consolidating the image of its traditional wine producing zones but on its ability to produce top quality wines at favorable prices in areas whose potential is still relatively unexplored."
As a result of Casale del Giglio's research, the European Community authorized the cultivation of 'new recommended varieties' such as Chardonnay, Sauvignon, Syrah, Petit Verdot and Cabernet Sauvignon in the province of Latina (from 1990) while other varieties were authorized later.
Casale del Giglio has converted its 180 hectares of vineyard to the cordon trained system, electing to plant those grape varieties which adapt well to the territory and produce quality wines.
Casale del Giglio currently offers a range of 22 products – seven white wines, one rosé, seven reds, one late harvest, three grappas and an extra virgin olive oil.