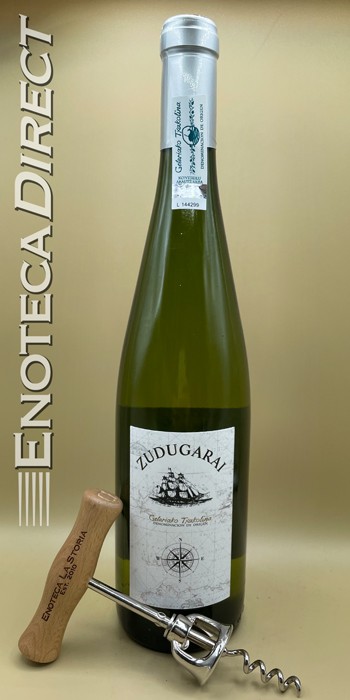 2020 Bodegas Zudugarai Txakoli
Getariako Txakolina, Spain
Classic and unique "spritzy" white from the Basque region of Spain! Bring on the "pintxos" ("PEEN-chose") or tapas! Brisk, mineral and briney, this is a fun and delicious wine to drink with all kinds of appetizers, salads, seafood and shellfish. 100% Hondurrabi Zuri. 40 year-old vines. Fermented and aged in temperature-controlled stainless steel tanks and bottled with its own natural effervescence.
Tasting Notes: White fruit aromas with fine herbs and a salty sea breeze. Fresh and energetic as soon as it hits the lips. Long and balanced mouthfeel with the aromatic intensity revealing itself along with sweet citrus fruits of lemon and lime.
Winery Notes: The Errasti family has been growing grapes for up to 50 years and over 3 generations. Before being recognized as a DO the family sold the grapes locally. In 1989 when Getariako Txakolina received its D.O. status, the Errasti family changed their strategy and started making wine using their estate grapes. The family directly controls every process, from the selection of the grapes, to the cellar's storage, and are focused on safeguarding this unique indigenous product.