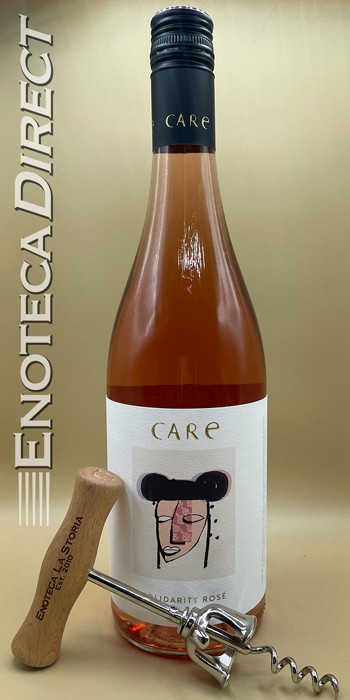 2020 Bodegas Care 'Solidarity' Rosé
Cariñena, Spain
50% Tempranillo and 50% Cabernet Sauvignon. Fermented and aged in temperature-controlled stainless steel tanks.
Tasting Notes
On the palate, the texture of this rosé is wonderfully silky, thanks to the balance of fruit and acidity. Radiant pink color, lush and ripe with juicy cherry and strawberry-tinged flavors; smooth, yet refreshing. This is wonderful warm weather wine and will be a delicious foil to burgers, sausages, tacos and simply prepared meats.

About Bodegas Care
Bodegas Care was founded in year 2000 as a modern project focused on grape and wine quality. With 150 hectares of vines and 4,000 square meters of state-of-the-art facilities for winemaking, the winery is aiming to be a leader in quality, value-priced wines. We have tasted a few of them - and they are ALL amazing values.
Bodegas Care hails from Cariñena—one of the spots for top Garnacha in Spain. Their old, gnarled vines date back to 1948, with deep roots that reach deep into the limestone-heavy soils in search of water, bringing back character and complexity. Those vines are grown in a high desert-like plateau in Aragon, with warm days allowing for easy ripening and rich fruit, but an altitude that brings chilly nights to help preserve freshness—a recipe for a do-it-all wine like Care's Nativa Garnacha.
In the winery, they're trying to exercise as much care as possible to create a richly textured bottling with pure fruit and elegance. The grapes are handled gently and fermented in unique, truncated-cone stainless fermenters for gentle extraction, before pressing in basket-style presses to avoid hard tannins and ensure the wine has a velvety mouthfeel, all techniques you'd normally expect at wineries releasing much pricier bottles. Aging in used oak barrels until just before the next harvest allows for complexity to develop without wood interfering, resulting in a wine that's delicious on its own or with a classic meal.