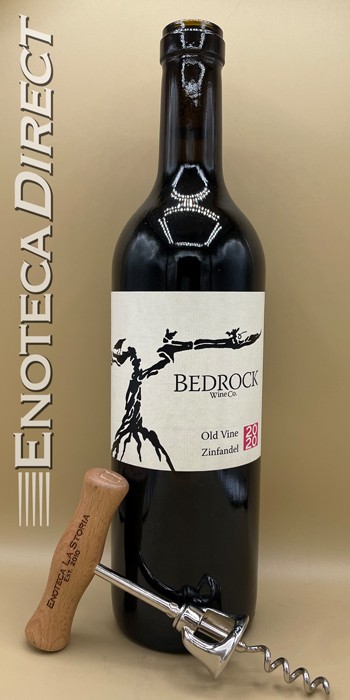 2020 Bedrock Old Vine Zinfandel
California
85% Zinfandel with the balance a blend of Carignan, Mataro, Grenache, and Alicante Bouschet, along with esoteric creatures like Aubun, Abouriou, and many more. Though unfortunately Bedrock lost a few lots due to smoke exposure, they were able to lean into the strong vintage at Esola, Schmiedt Road, Evangelho, Old Hill, Bedrock, Nervo, and others to make a classic rendition of Old Vine Zin. The largest single component comes from the old vines at Bedrock, followed by the perfumed goodness of Esola, the softer but fresh Schmiedt, and the peppery, dark-fruited Nervo Ranch. As usual, almost all of the wine consists of declassified barrels from vineyard-designated wines, so it offers serious bang for the buck. Raised in a wide variety of French and Austrian barrels, puncheons, and foudres (about 10% new) and only racked at bottling. This is a classic California Zinfandel.
Tasting Notes
Packing in a lot of structure and personality, this full bodied but fresh Zin this wine has a dark core of perfumed, dense fruit. It delivers vibrant black cherry, smoky garrigue and green peppercorn flavors that build toward broad-shouldered tannins, without any hint of overripe or baked fruit.
About Bedrock Wine Co.
Bedrock Wine Co. was founded in 2007 by Morgan Twain-Peterson in a 550 square-foot, former chicken coop with ceilings eight feet high and no fermentation space. After six years of Bedrock being a one-man-show, Morgan was able to talk his best friend, Chris Cottrell, into moving to California from New York to join him. They now happily have a little more space to move around in but share the same objectives that guided the winery at the start.
Bedrock Wine Co. is fundamentally about making wines that are hopefully a soulful expression of a vineyard and a year. Too often though, the critical link that binds a site to the winery is forgotten- the grower. It has been said a thousand times. It does not make it any less true. Great wine is made in the field.