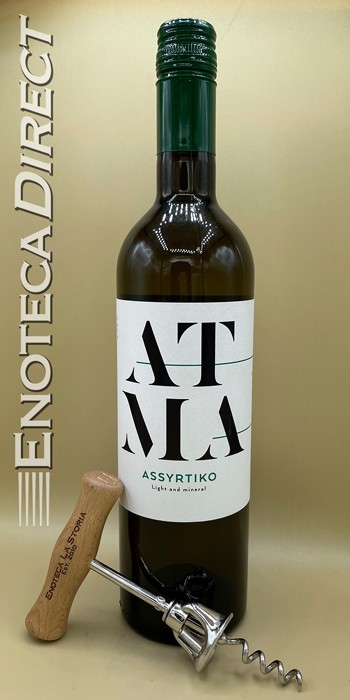 2020 Thymiopoulos ATMA Assyrtiko
Naoussa, Greece
Another incredible wine from our favorite Greek winemaker Apostolos Thymiopolous!
100% Assyrtiko - 50% from Apostolos' high altitude vineyards in the Fytia Village at 500-600m above sea level. The remaining 50% of Assyrtiko derives from vineyards across the region of Macedonia. Light to medium-bodied, but with a plush texture. Loaded with bright citrus and tart stone fruit laced with a saline-like character. Certified organic farming with biodynamic practices.
Since 2005, Apostolos Thymiopoulos has been on a mission to define what Greek wines represent to the world. In bygone days, the wines of Northern Greece (and specifically Naoussa) were thought to be highly tannic with bracing acidity that needed prolonged time in barrel in order to be palatable. Apostolos disagreed, and with the introduction of Uranos in 2005, the Modern Greek wine movement began! Located in Naoussa in the northern part of Greece, Apostolos is the third generation of his family to grow grapes and produce wine. Apostolos' wines are lively and expressive, representing Greece's new generation of winemakers seeking to produce wines that are easy to drink while young but that will also age gracefully over time.
Thymiopoulos Vineyards is a family owned and operated winery that follows biodynamic farming principles, allowing the grapes to express themselves with as little intervention as possible. Apostolos' focus is on using only the native yeasts for fermentation and using stainless-steel to bring the varieties' fruit flavors and terroir expressions to the forefront. 100% Assyrtiko, the grapes were harvested by hand, de-stemmed and gently pressed, the free-run juice was collected separately. Fermentation took place over three months with indigenous yeasts in temperature-controlled stainless-steel tanks with an additional two months sur lies before being filtered and stabilized at -3°C to prevent any malolactic fermentation, and to retain Assyrtiko's natural high acidity.