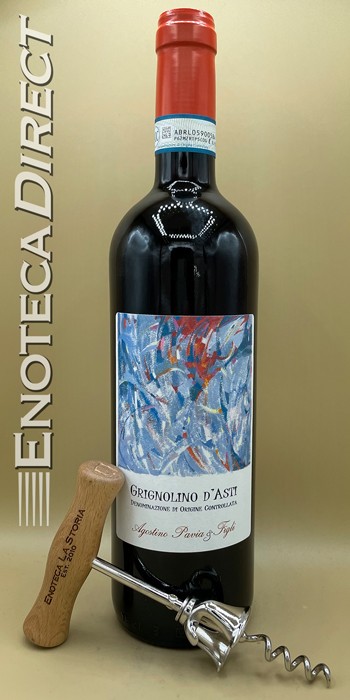 2020 Agostino Pavia Grignolino d'Asti
Piedmont, Italy
100% organic Grignolino from vines planted between 1985 and 2005, hand harvested and entirely destemmed before fermentation in stainless steel. 5-6 day maceration with frequent pumpovers and pressed off before fermentation is complete to limit tannin extraction. Only about 800 cases were made.
Tasting Notes
Misleadingly pale color, but a very distinctive and flavorful wine. This is classically styled, and delicious, Grignolino: lighter in body and color, with aromas of red berries and rhubarb, crushed violets and fresh alpine herbs. Those same notes come across on the palate as well along with a vigorous acidity that gives the fruit an appealing lift. Try putting it in the fridge for 20 minutes to bring out the fruit. This is the perfect wine for charcuterie or pizza.
About Domaine Estrade
Located in commune of Agliano Terme within Asti, Agostino Pavia is a Barbera specialist. Unlike with many Piedmont producers where Nebbiolo is the focus and Barbera can be treated as an afterthought, here Barbera is king. Agostino Pavia, convinced of the quality of Barbera in this region, began purchasing top vineyards in the 1950s, as many were abandoning vineyards in Piedmont and moving to cities for work. The vineyards are situated between 240 and 260 meters in altitude, and the soils are sand mixed with clay. Pavia is very much a family-affair, with Agostino's two sons Giuseppe and Mauro now handling much of the cellar work and sales. But it is still Agostino who walks the vineyards during harvest, tasting the grapes, and deciding when to pick. They employ a sustainable farming philosophy that Mauro refers to as "buon senso" (common sense): all vineyard work done manually, integrated pest management, cover crops between rows, etc. A rigorous green harvest, combined with ideal exposure in the vineyards, allows Pavia to produce Barberas of uncommon complexity and precision.