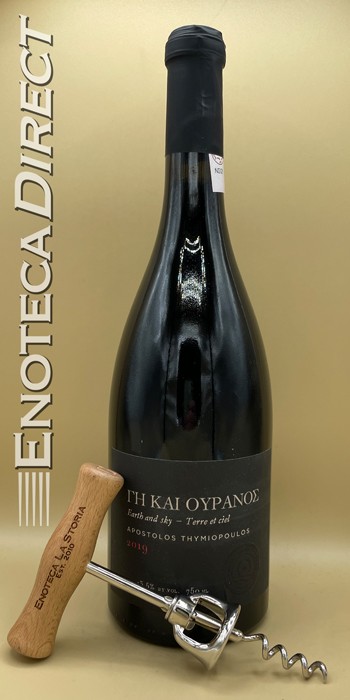 2019 Thymiopoulos Xinomavro 'Earth & Sky'
Naoussa, Greece
Too frequently, when many of us think of Greek wine (if we think about it at all – I know I do!), we usually think about lighter, saline-driven whites – the sort of bottles that are ideal for sitting outside a cafe on Santorini with a plateful of clams. And there's absolutely nothing wrong with that. BUT…Greece has SO much more to offer than this!
There's a wine that truly represents the complex, collector-worthy reds coming out of Greece – Xinomavro ("tsee-NO-mav-row"). Xinomavro is the sort of powerhouse wine that proves that the potential for complexity and boldness is absolutely part of the Greek winemaking tradition.
Xinomavro literally translates to "acid black" and you only need a single glass to find out where that name comes from. Tasting Xinomavro packs a real punch – and is one of the reasons it's often compared to the far more expensive wines of Barbaresco, Barolo (and Nebbiolo in general). The essence of the Xinomavro character can be found in the complex, distinct aromas of red fruits, flowers, tomato leaf, black olive, prune, tobacco and nuts, while wood-aging becomes evident in the subtle hints of spices. The bottle aging potential of these wines is long and nothing less than remarkable.
One of my absolute FAVORITE Greek winemakers is Apostolos Thymiopoulos. I love ALL of his wines, from the whites under his Atma label, to his rosé (which is made from…Xinomavro) to his reds. They are all expressive, delicious and wonderful versions of the varietals from which they are made. Many of you, like me, are fans of his entry-level, Young Vines Xinomavro. However, Earth & Sky, is Apostolos's top bottling of Xinomavro. Folks, this is a truly special bottle of wine.
If you are at all interested in tasting some of the best wines that the world has to offer, here's an opportunity to do just that. This is one of the best versions of Xinomavro you'll ever find.
Wine
100% Xinomavro ("tsee-NO-mav-row"). A blend of the best parcels of the estate! The vines are 44-49 years old. Farming practices are sustainable and biodynamic. The grapes are handpicked. Native yeast fermentation. The wine is aged for 18 months in various sizes of oak barrels. Bottled unfiltered.
Varietal – Xinomavro
Xinomavro (or Xynomavro) is a dark-skinned grape variety widely planted in northern Greece. It is also cultivated to a lesser extent, in the Republic of North Macedonia.
The variety is highly regarded in its native Greece as the finest red wine the country has to offer. With its characteristically high tannin and acidity, Xinomavro is structurally one of the biggest red wines in the Mediterranean, and indeed Europe.
Region - Naoussa
Naoussa (or Naousa) is a PDO wine appellation based a town in the hills of Macedonia, northern Greece. In 1971, it became Greece's very first wine region to be given its own official appellation title, and served as a model for the Greek appellation system. Naoussa is the most important appellation associated with Xinomavro, as its wines are required to be 100-percent from this varietal. These are held in high regard, and along with Nemea on the Peloponnese peninsula, are considered to be Greece's greatest red wines
Winery Background
There is a lot of excitement around Thymiopoulos, who has assembled an enviable collection of vineyards in the Naoussa villages of Trifolos and Fitia, which neighbor one another but are nevertheless quite diverse—Trifolos is said to be one of the warmest subzones of Naoussa while Fitia, with vineyard altitudes climbing to 500+ meters, is one of the coolest. Many of these vineyards were originally farmed by his grandfather (also named Apostolos), but the family had long sold the grapes to others, retaining some for family consumption. It wasn't until grandson Apostolos graduated the University of Athens' enology program in 2000 and began making wines with the family name on them. The first commercial releases were in 2003, and the charismatic personality of both the wines and their maker have attracted international attention. Thymiopoulos has also made a point of getting out into the wider wine world—France especially—for inspiration.
Serving Suggestions
Serve in a wide bowl stem, as you would Pinot Noir and Nebbiolo. Decant for at least an hour if you open it in the near term. You can cellar for 10 + years.
Food Pairing
Xinomavro is an excellent food pairing wine with cheesy pastas, mushroom risotto, roast chicken, pork, veal and meatloaf. Of course, lamb and even a dry-aged steak, where the tannins help cleanse the palate, are wonderful partners as well.