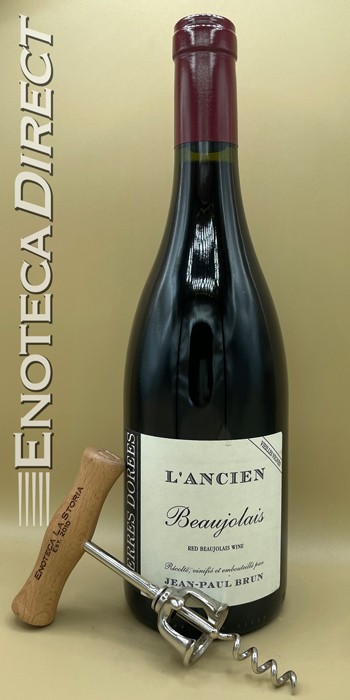 2019 Jean-Paul Brun 'Terres Dorées L'Ancien' Vieilles Vignes
Beaujolais, France
100% Gamay. L'Ancien comes from Jean Paul's oldest vines--hence the name of the wine--in his home village of Charnay in the southern Beaujolais. They range in age from 40 to 60 years old and are planted on slopes sporting the area's signature sandy clay-limestone soils, featuring the particular local "dorée" or "golden" limestone that is laden with iron. These older vines have always been farmed organically and harvested by hand and yield small, thick-skinned Gamay berries. As for all Terres Dorées reds, the vinification is traditional Burgundian, meaning no carbonic maceration. The grapes are rigorously sorted and destemmed, crushed and fermented with indigenous yeasts in concrete vats. The wine is aged in concrete until May-June after the vintage.
Tasting Notes: The wine opens with aromas of sweet berry and cherry fruit mingled with hints of licorice and spice. A spicy quality carries on to the palate, which offers juicy red currant and raspberry, backed by citrusy acidity, quite refreshing. Medium-bodied and fresh, the wine finishes with soft crunchy tannins, ripe fruit, and perfect balance.
About Jean Paul Brun/Terres Dorées: Jean Paul Brun is located in Charnay, a village in the Southern Beaujolais just north of Lyon, in a beautiful area known as the "Terres Dorées" or Region of Golden Stones. Brun wants to make "old-style" Beaujolais and his vinification differs from the prevailing practices in the region. He believes that the charm of Gamay's fruit is best expressed by the grapes' indigenous yeasts. His Beaujolais is made to be pleasurable - light, fruity and delicious - not an artificially inflated wine that shines at tasting competitions. Only a minimal amount of S02 is used at bottling to keep the wine fresh and "headache-free". Fermentation naturally produces a lot of CO2, which acts as protection against oxidation during aging; leaving some in the wine at bottling time also helps to keep it fresh. Filtration is also minimal so that the wine keeps its original fruit and aromas. Brun's wines are not 'blockbusters' in the sense of 'big.' The emphasis is not on weight, but on fruit: Beaujolais as it once was and as it should be.