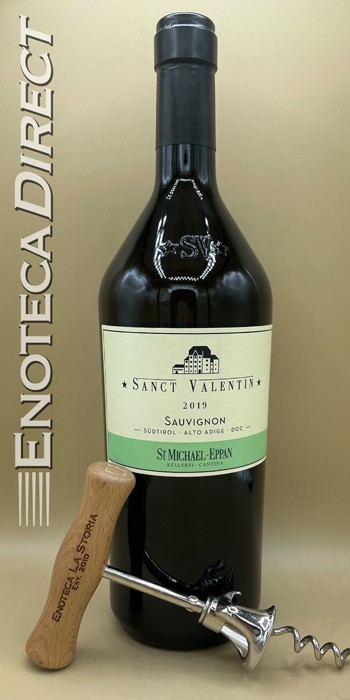 2019 San Michele 'Sanct Valentin' Sauvignon
Alto Adige, Italy
"This winery and wine is a blast from the past for me. I was introduced to both of them early in my tenure at K&L Wine Merchants back in 1999. I was told that this was one of the flagship white wines in all of Italy. It was true back then and it's still true today. This esteemed Co-Op is considered to be one of the great producers in all of Italy (much like Produttori del Barbaresco) and this is their signature wine. I have said that Italian Sauvignons are probably my favorite versions of Sauvignon Blanc because they lie in between the crisp, mineral-driven style of Sancerre and the exotic, riper style from New Zealand. It's my Goldilocks wine – it's just right. And, if that is true, then this wine is right up there with the best on the planet. It doesn't get much better than this! Sadly, I did not get a chance to taste this wine when the Rep stopped by Enoteca Direct recently with a handful of San Michele Appiano wines…but, fear not, both Ryan and Andrew were fortunate enough to sample it and they BOTH gave it an enthusiastic thumbs up. I'm not surprised – and I bet you won't be either!" ~ Mike Guerra, Advanced Sommelier
100% Sauvignon. Vines range in age from 10 to 33 years old. Grapes are hand-harvested. The majority (75%) is fermented in steel tanks, inside which the wine is aged on the lees until the end of April. The rest is partly fermented and aged in tonneau (15%) and partly in big wooden barrels (10%).
Yellow-green color. Dense nose of yellow fruit, gooseberry, elderflower and ripe redcurrant. Crisp acidity, smooth body and an elegant fullness.
95 points, Wine Advocate. "There's a reason why this enticing, elegantly structured wine is one of Italy's most iconic whites. It opens with heady aromas of fragrant white wild flower, citrus, alpine herb and hazelnut while the delicious, racy palate features juicy white grapefruit, nectarine, fennel and savory mineral notes. A lemon drop note lingers on the finish. Drink through 2029.""