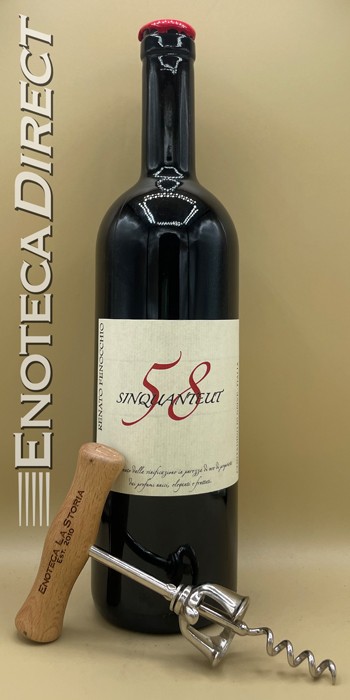 2019 Renato Fenocchio Vino Rosso '58 Sinquanteut'
Piedmont, Italy
The wine is made from 100% Nebbiolo Rosé clone planted in 1958 over 0.5 hectares in the Starderi Cru! South West exposure. Rather than blend into their Starderi bottling they pick this clone separately and ferment on skins for a much shorter period, just approximately 5 days or so then press off to tank to finish the fermentation. No oak is used at all. The aim is to showcase the more delicate and aromatics this clone offers. As it's not aged in oak for the time specified by the Barbaresco DOCG is has been bottled as a Vino Rosso. Elegant and so so pretty this wine is a delight to drink. Organic.
This is a very pretty wine. Black cherry, spice, leather and menthol all grace this attractive, mid-weight Nebbiolo. A whole range of attractive floral and savory notes emerge with time in the glass. Aging in steel keeps the flavors fresh, but there is no shortage of depth.
This is a BRAND NEW wine that we import from this tiny producer in situated in the Barbaresco region. Paula and Marc discovered this producer from a recommendation from David Nayfeld, the chef/co-owner of Che Fico, one of the best and "hottest" Italian restaurants in San Francisco. He had tasted and fell in love with the wines of Renato Fenocchio on one of his many trips to Italy and told Paula and Marc they should track him down and taste their wines – which they did, of course…Team Girasole also tasted THESE new wines at one of our last tastings and were equally impressed with the Fenocchio wines. This is a "de-classified" Barbaresco, meaning that the grapes are sourced within the Barbaresco appellation and could thus be labeled as Barbaresco, but the Fenocchios choose not to label it as such. They ferment and aged briefly is steel to make a more "approachable" wine, but this is serious, sexy stuff…
Virtually hidden in Piemonte's rich history is the story of a forgotten cousin of Nebbiolo, called Nebbiolo Rosé.

Though a component of many great Barolos and Barbarescos of the past, it suffered from tiny yields and relatively light color—hence the variety's name. Yet, these deficiencies were more than made up for by the wines' sensual texture and haunting perfume.

Sadly, Nebbiolo Rosé all but died out, replaced by Nebbiolo clones known for their productivity and deeper color. By the late 1970s, only a handful of producers still grew it, including two giants of the past.

One was Vietti's Alfredo Currado—in the Briacca cru—and the other was Enrico Giovannini-Moresco, whose Barbaresco Podere del Pajoré was entirely planted to Nebbiolo Rosé. Sadly, neither wine was made after 1982.
Nebbiolo Rosé has developed a cult following in recent years, thanks largely to the occasional old bottle of Giovannini-Moresco's Barbaresco that surfaces. For the few of us who've experienced one of those prized bottles, finding Barolos and Barbarescos made with Nebbiolo Rosé has become a quest.
In the early 1800s the Fenocchio family, originally from Monforte d'Alba, moved to Barbaresco where they worked as farmers. Following that tradition, Renato and Milva Fenocchio created their own winery in 1993, farming grapes and making wine in Neive, a small town about 10 km from the city of Alba.
The Fenocchios operate several vineyards in the Langhe all with different soil compositions, from calcareous-clayey soils with sandy outcrops in Barbaresco and Treiso, to sedimentary clayey-calcareous marl soils, interspersed with gray-blue sandstones typical of the eastern area of Neive. The 11-hectare farm is operated by the two of them and farmed without the use of herbicides and pesticides.