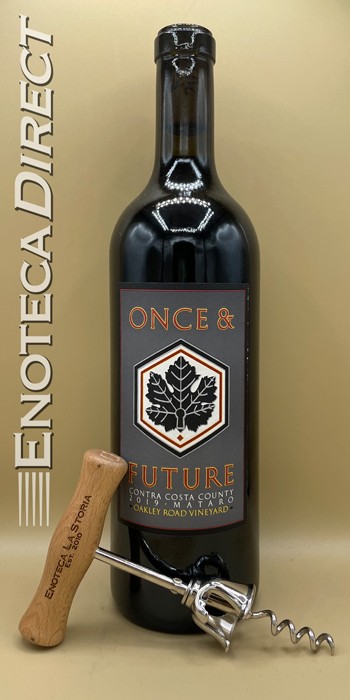 2019 Once & Future Mataro
Contra Costa County, California
119-year-old vines, 8X8 head pruned, picked 9/6/2019, 14.4% Alcohol, pH 3.58, TA 5.5 g/L, 360 cases bottled in July 2020.
Winemaker Notes:
The soils at Oakley Road vineyard are so sandy that early growers in this region were disparaged as "sandlappers." Little did those wags know that the delta sands, with their Phylloxera inhibiting properties, would be the key to the survival of some amazing 100-plus-year-old, own-rooted, unirrigated vines. The micro climate of Oakley allows grapes to ripen early. It is not so much that it is hot during the growing months—the average temperature is about 74 degrees with the nights in the mid 50s and the days in the 90s during the month of July and August—but that the sandy soils warm earlier in the year than most other areas in California, and vine growth starts sooner. As the season progresses, the grapes continue to ripen consistently in spite of the cooling maritime winds from the Carquinez straits, due to the reflected sun from the Antioch sandy soils.
The resulting wines can be, in a word, graceful. The combination of own roots, old vines, deep sandy soils, and cooling afternoon breezes seems to encourage gentle, suave wines. Some winemakers like to make big, powerful, dark wines from these grapes, though I believe the wines are much more enjoyable, interesting, complex, and finer when picked earlier.
These Oakley Road vines may not be around much longer. This part of Contra Costa (CoCo for short) is changing rapidly. It has been an industrial backwater for a long time. High tension electrical lines, a PG&E power plant, and motels that rent by the hour stand in contrast to an inordinate number of churches and an increasing reality of fast food restaurants that populate a disjointed human landscape. There is increasing urbanization as roads are widened and BART pushes east. Many of these vineyards are for sale with inflated land prices, having been designated as commercial land—the result being land costs that are more compatible with strip malls than farming. For now, the vines remain in the ground, producing viticultural treasure.
92 points, Antonio Galloni's Vinous. "The 2019 Mataro Oakley Road is a very pretty, aromatic wine from dry-farmed, own-rooted vines planted in the 1880s on sandy soils. Crushed red berries, spice, cedar and floral overtones grace this super-expressive, inviting wine from Joel Peterson's Once & Future. A touch of sweetness from the new French oak (25%) is nicely integrated. I especially like the energy here. Drinking Window: 2022 - 2034."