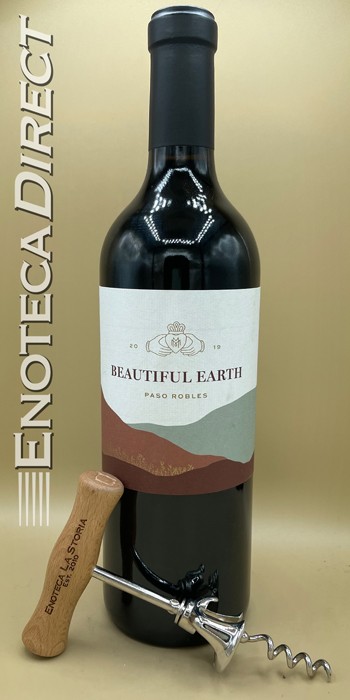 2019 McPrice Myers Red Blend 'Beautiful Earth'
Paso Robles, California
Oh, we've got a potential "Man Crush" here. I never thought of that before, but it makes sense. I have been a HUGE fan of McPrice Myers' wines for some time now. Gosh, it has to be over 10 years. I first discovered his wines back in my days at Vintage and featured many of his wines in both the wine club and on the retail shelves. What I liked (and like) about his wines is that they are loaded with flavor and personality, yet retain a sense of balance and freshness – and they are great values too! Take this red blend for instance. This wine could easily sell for over sixty bucks and still be well worth the money. My sense is the reason that it's not more expensive is that Mac is not making wine to "get rich quick." He's truly passionate about making good wines and selling them at fair prices so that folks can actually purchase and enjoy them. He's not about making some cultish, "unicorn" wine that you have to jump through hoops to get your hands on. Case in point, he's got a line of wines he calls Hard Working Wines that he describes as "Hard working, value-driven wines from Paso Robles and the Central Coast" that sell for around $20-$25 and have names like High on the Hog (red blend), Bull by the Horns (Cab Sauv), Pound for Pound (Zin). Again, these wines are fun. Flamboyant, delicious wines that capture the spirit and personality of Paso Robles. Just check out the accolades below. This is my kinda guy! If I'm in the mood to drink something bog and bold, like, say with some brisket or BBQ'd ribs, this is the kind of wine that I would go for." -Mike Guerra, Advanced Sommelier
60% Syrah, 10% Cabernet Sauvignon, 10% Grenache, 8% Mourvedre, 6% Petite Sirah, 2% Zinfandel, 2% Graciano, and 2% Clairette Blanche.
The components of Syrah, Grenache, and Mourvèdre were fermented in small open-top bins, concrete, and stainless steel tanks with 10% whole clusters included. The wine spent 20-35 days on the skins with a combination of pump-over and punch downs. Aged 18 months in a combination of 228, 265, and 500-liter neutral French oak barrels.
Marionberry, dark leather, smoked plums, blueberry/peach cobbler, acacia flower, lavender creme brûlée, red-eye gravy, violet, ripe olive, hoisin, currant paste, and melted licorice. Broad, weighty, and plush on the palate with a densely packed finish.
93 points, Wine Enthusiast. "Grape Jolly Rancher aromas meet with nutmeg and other barrel spices on the nose of this wide-ranging blend of 60% Syrah with smaller parts Cabernet Sauvignon, Grenache, Mourvèdre, Petite Sirah, Zinfandel, Graciano and Clairette Blanche. Polished tannins have just enough firmness to balance the ripe berry and dark-spice flavors with a touch of tension."
"McPrice Myers continues to fashion character-filled, high quality, yet value-priced wines." – Robert Parker
"Ridiculously good drinking for the money." – Jeb Dunnuck
"Stunning wines that more than live up to the hype." – Ian Cauble, Master Sommelier, Somm Select
"The top-notch Paso Robles-based winemaker, whose production has been steadily increasing over the last decade, is still flying under the radar of many wine lovers. I'm betting that will change as word gets out about Myers' powerful yet elegant wines, many of which are based on fruit from some of Santa Barbara's most acclaimed vineyards and which command quite reasonable prices given their quality. That's especially the case with his Blue Collar Series bottlings, which Myers says are intentionally made to overdeliver price-wise and to bring as many customers as possible into his fold." – Josh Raynolds, Vinous