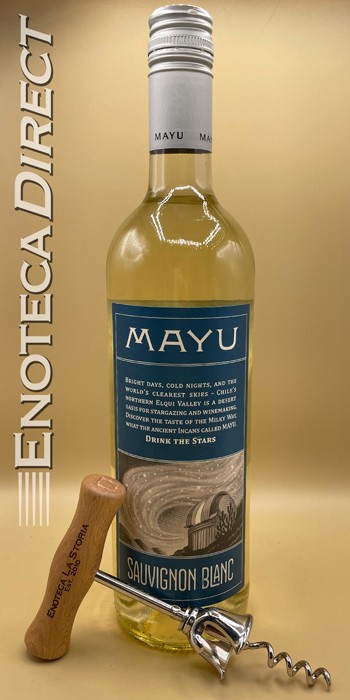 2019 Mayu Sauvignon Blanc
Elqui Valley, Chile
100% Sauvignon Blanc. 18 year-old vines. Harvested off of low yield, Guyot-trellised vines from the foggy, coastal Titon vineyard. The grapes are hand picked and are fermented and aged in temperature-controlled stainless steels tanks to express the ultimate minerality of the grapes in true Mayu style.
Tasting Notes: Ripe gooseberry, citrus and apple fruit flavors with crisp acidity. This Sauvignon Blanc shows an opulent character, nice fruit expression, length and complexity. It is best served with a range of foods including fish and seafood, and can also be enjoyed as a refreshing aperitif.
Winery Notes: The Olivier family started Viña Mayu in 2005 and was the first to bring premium winemaking to northern Chile's Elqui Valley. They chose the name "Mayu" - the Inca word for the Milky Way's "river of stars" – to honor the valley's renownfor having the world's clearest atmosphere and being the best place on earth for astronomy research. The inspiration for Mayu was to transform the extreme landscape to its full potential and produce premium wines from an otherwise overlooked terroir.