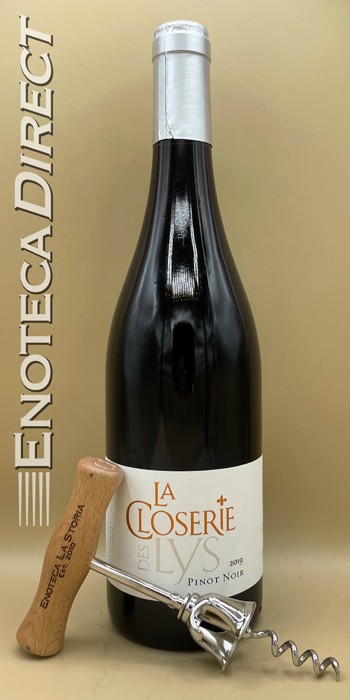 2019 La Closerie de Lys Pinot Noir
Languedoc, France
This is remarkably delicious and well-made Pinot Noir at a terrific value price. The grapes grow in France's Languedoc region, which makes you think "hot." But this is from the tiny sub-region of Limoux where there's limestone in the soil and a moderate enough climate that sparkling wine was pretty much invented here. Well, and high enough for cooling, too, as all the vines are perched at 900-1,700 feet elevation. The Pinot Noir is destemmed and then goes into the fermenters as whole berries for a sloak and slow bubble on its own schedule. About half ages six months in barrel, about 10% new. 3,300 cases are made annually.
Tasting Notes
The result is a wine of light and semi-transparent color but with substance and flavor to burn. Ripe raspberry and cherry fruit take center stage, with support from earthy cola nuts on the bottom and a touch of spice up top. Soft and supple tannins make this a tasty party/solo-sipping choice, but there's more than enough here to match up with lentils, roast chicken, sausages, even salmon.
About La Closerie de Lys
Roughly 50 miles south of the old walled town of Carcassonne are the vineyards of Closerie des Lys. They grow deep in the Pyrenean foothills on the sides of two mountains, flanking a little hollow anchored by the village of Antugnac. The village is old and forgotten, with a church that was fortified in the Middle Ages as a bastide against marauding mercenary bands, but few travelers venture off the main road to climb the hill to visit Antugnac and its church.
Closerie des Lys was founded in 1997 by the Collvray and Terrier families who are also partners in Domaine des Deux Roches in the Mâconnais. Closerie's vines are in Limoux's Haute Vallée de l'Aude—the coolest zone of the region, a narrow band following the Aude River from Limoux to Quillan. Local born, Mathilde Fort has been chef du cave since 2013 after a stint at Errazuriz in Chile and training at Domaines Didier Dagueneau, Mas Amiel, Vieux Télégraph and Burgundy's Clos du Tart.