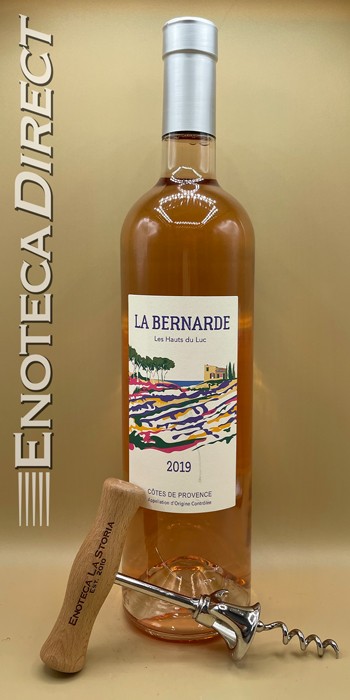 2020 La Bernarde 'Les Hauts du Luc' Rosé
Côtes de Provence, France
There may be no wine region on Earth that is more picturesque than Provence. This ruggedly beautiful region in the south of France produces what many people consider to be the standard for rosé in the world, along with some gorgeously perfumed and layered whites and reds. In the village of Luc, in the heart of the Côte d'Azur, La Bernarde and their organically farmed, traditionally made wines are quietly staking their claim as one of the finest in this famed region.
The winery and their vineyards sit on a rocky limestone hillside at about 300 meters above sea level, making it one of the highest properties in the entire region. The cooler micro-climate of this area – it snows most winters! – allows them to make the kind of rosé we dream of, yet so rarely find; crisp, mineral-laced, bright-fruited, and with the complexity to drink on its own or with a variety of light or grilled fare.
Wine
A blend of 46% Cinsault, 27% Grenache, 11% Mourvedre, 9% Rolle, and 7% Syrah. The grapes are direct-pressed and then fermented and aged in stainless steel to maintain their vibrant fruit aromas.
Tasting Notes
Bright and minerally focused, displaying fresh orange, strawberry and floral aromas in the glass. Energetic and precise on the palate, offering strawberry, blood orange, nectarine and lavender notes.
90 points, Antonio Galloni's Vinous. "Light, vivid orange. Mineral-accented red berry and pit fruit aromas are complemented by a subtle floral top note. Silky and energetic, offering fresh strawberry, tangerine and nectarine flavors that deepen with air. Shows sharp delineation and very good persistence on the finish, which features a repeating pit fruit note."