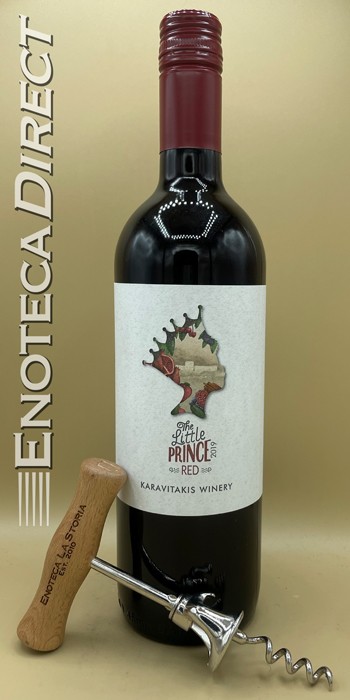 2019 Karavitakis 'The Little Prince' Red Blend
Crete, Greece
A blend of native grape varietals- 65% Kotsifali and 35% Mandilari. The grapes are sourced from Pontikiana Village, which enoys limestone soils, a bit lower temperatures compared to the classic mediterranean climate, adequate rainfall during winter, warm summer and the presence of sea breeze which cools the vineyards during summer days. Hand harvested and sorted, and fermented entirely in stainless steel. Only about 1600 cases are made per year.
Tasting Notes
Kotsifali is used as a backbone for this wine, offering soft texture and plum fragrances. The Mandilari adds deep ruby red color, tanins and jammy fruit flavors. With a little chill on this Cretan blend of indigenous Kotsifali and Mandilari, you've got an intriguing and affordable summer red. Aromas of black cherry, pepper and crushed herbs are followed by waves of earthy spice and red fruit. The wine offers structure and complexity, with a lingering finish. Impressive for the price.
About Karavitakis Winery
Karavitakis Family has been involved in the winemaking business for 4 generations already. The great grandfather was the owner of major vineyard and olive tree plantation around the area of Pontikiana village in Chania. Back then one type of red wine was produced from an indigenous grape varietal of Chania region: Romeiko, and also big amounts of Soultana raisins.
The winery's philosophy is simple. Grow local and international grape varietals, but offer a cretan terroir background to them so that somebody can understand the essence of producing wines on the island of Crete. Modern viticultural methods are used and effort is given to apply minimum forces during winemaking. The result is wines without edges but yet very interesting for a tasting palate.