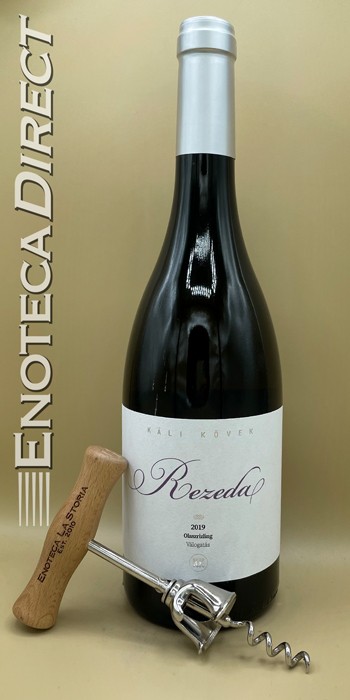 2019 Káli-Kövek Olaszrizling 'Rezeda'
Balaton-felvidék, Hungary
100% Olaszrizling (Welschriesling) from 4 sites including Fekete-hegy, Hegyestű, Tagyon-hegy and Szent György-hegy with an emphasis on basalt and clay. Vine age ranges from 20-45 years old. All wines are hand harvested and hand sorted then spontaneously fermented in used 500L and 225L Hungarian Zemplén Oak barrels. Wines then age between 6-9 months before bottling. Rezeda is the Hungarian word for the perfumed Mignonette flower that grows all over the Káli Basin alongside the famous lavender of the area.
Tasting notes: Olaszrizling AKA Welschriesling AKA Italian Riesling has no relation to the Riesling we associate with Germany and Austria. It's known to produce textural whites with floral aromatics and lots of acidic freshness.
About Káli-Kövek: The village of Köveskál sits more or less at the center of the Káli Basin surrounded by Basalt buttes, thick forests (Linden, Oak, Sumac), and rich rolling farmland littered with spiral-shaped horned Racka sheep, wooly Magalica pigs, and iconic Grey Cattle. There is a palpable and vibrant biodiversity here. The Mediterranean like influences from Lake Balaton coupled with volcanic tuff soils riddled with basalt fragments, rich clay and dense brown soils have been yielding high quality wines here since the Romans.
Gyula Szabó, the winemaker at Káli Kövek, took over his grandfather's small vineyard in 2006 to focus on small-scale natural wine production. Paying close attention to the land and the grapes, he produces wines that reflect his passion for honest, artesanal winemaking and purity of style. Focusing on Olaszrizling, the Káli-Kövek wines are among the most densely, bright, aromatic and mineral in the Uplands of Lake Balaton. The Káli Basin is a favorite vacation spot of many artists in Hungary. The winery plays an active part in the local culture scene, often organizing concerts and events at the old family home.
Wine Specs
Appellation
Balaton-felvidék