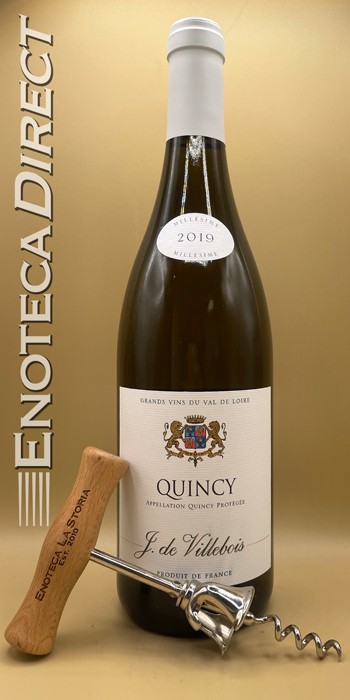 2019 J. de Villbebois Quincy
Loire Valley, France
Nestled in the Loire Valley, Quincy is the first appellation from the Centre-Loire to obtain the AOC status (in 1936!). The terroirs of the Quincy appellation overlook the Cher river. Planted on clayey-sandy soils located on lacustrine limestones, the vines flourish fully in this deep 'gravel' terroir.
100% Sauvignon Blanc. The grapes were gently pressed in a pneumatic press immediately after being picked to minimize skin contact. The juice was traditionally fermented with selected yeasts in temperature controlled stainless steel tanks. Fermentation lasted for seven to 15 days, followed by maturation in stainless steel tanks for a minimum of six months, on its fine lees to impart volume and texture. Bottling took place during the spring following the harvest. An intense and mineral driven wine with opulent aromas of blackcurrant, lemon and hawthorn. On the palate, the ripe citrus flavours are supported by crisp acidity.
The winter of 2019/2020 was the warmest since the turn of this century, bringing with it an abundance of rain. This sparked the vine's growth cycle and flowering took place two weeks earlier than average. The summer was warm and dry, with several heatwaves, which allowed the vines to flourish, the grapes to mature and concentrated the flavours in the berries. The natural water reserves prevented any hydric stress.
This family-owned winery is the venture of Joost and Miguela de Willebois, who are descendants from an old French family, established in the Netherlands since the 19th century (where the V became a W). Passionate about French culture and the Loire Valley, Joost and Miguela settled in Touraine in 1996, after being enchanted by Loire Sauvignon Blanc. They cultivate a range of terroirs across appellations within the Loire Valley, combining modern techniques, innovation and experimentation, with respect for the soils and the terroir. They fully believe that by being as close to nature as possible, they can capture the soul of the land. Patrice Merceron, winemaker and agricultural engineer, joined in 2014 and guides a team of dedicated winegrowers and winemakers to produce stunning Sauvignon Blanc wines, which reflect the nuances of the Loire Valley.
90 points, Wine Enthusiast. "Sauvignon Blanc is the speciality of the small, 750-acre Quincy on the Cher river. Recognized since 1120, Quincy in 1936 became the first official appellation in the region. The wine is soft and fruity, with attractive acidity fully integrated with the spice and rounded texture. This bright, clear wine is ready to drink."