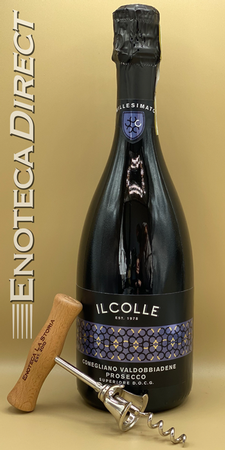 2019 Il Colle Millesimato Prosecco DOCG
Veneto, Italy
Tasting Notes
Dazzles with a display of fresh sliced apple, wet stone and hints of lime. It's a fresh and lively expression with juicy acids and minerals, creating a cascading and crunchy feel to its ripe orchard fruits. There's admirable length and persistence, even as this finishes crisp and refreshing. ~ Mike Guerra

100% Glera, handpicked and from the Conegliano-Valdobiaddene DOCG zone. Vinification through maceration without sulfur dioxide. They use an exclusive sparkling method that goes directly from the must to sparkling wine, with only one fermentation instead of two: the Il Colle Method ®. It permits the ability to reduce the amount of residual sulfites in the bottle and they are used only before bottling. Fermented in stainless steel with selected yeasts at low temperature for about 10 days. Aged 30-40 days in autoclave. No ML. 8-10 g/L of residual sugar.

The Story
Let me keep this short and sweet: If you frequent our locations at all, I'm guessing you are familiar with this producer. We pour various styles of the Il Colle Prosecco at BOTH of our locations. As we honor our Italian heritage, we have had 2 types of wines on our BTG lists from Day One: a Prosecco and a Lambrusco. These easy-drinking, crowd-pleasing, delicious wines bring something festive to any occasion. This particular wine is special and different from most of the Prosecco you'll find in the market – because it's a DOCG Prosecco, which means it comes from a very specific region and is made according to stricter regulations and standards than most other Prosecco, which come from the larger, less strict DOC area. But MORE THAN THAT, this is a SINGLE VINTAGE wine! Most Prosecco are non-vintage wines (blends of multiple years). This is made from a single harvest, with the best grapes and made in a very unique way (see below), meaning this ain't your grandmama's Prosecco! Il Colle is one of the Girasole producers that we visited on our trip to northern Italy last January. Has it been a year already?? This is the wine the Ceschins provided in each of our rooms when we checked into the hotel. We (Paula, Marc, Nick Dazzi, Joe Chiodo and I) proceeded to drain 3 of 4 bottles that first night, right after checking in and waiting to go to dinner. Yes, it's THAT delicious! Also, Jenn and I kicked off our New Year's Eve with a bottle of this wine…Can you tell I'm a fan?
The Ceschin family, particularly Sarah, was totally welcoming and hospitable and charming. After having visited the family, seen the winery and the vineyards AND tasted through the wines there, I am even MORE of a fan! Check out the other new wine we just brought in, their Prosecco from the famous Cartizze vineyard (the "Grand Cru" of Prosecco!). What perfect timing (like we knew what we were doing) to bring in these special sparklers…for the Holiday Season! Bubbles taste better during the holidays – and also brighten up the first months of the New Year! ~Mike Guerra
Winery Background
Il Colle "The Hill" was founded in 1978 in San Pietro di Feletto (Treviso) by the Ceschin family, in the heart of the production area of Conegliano Valdobbiadene Prosecco Superiore DOCG. The family of the founders were dedicated to wine production since the early '20s and has remained tied to this tradition from generation to generation, to the point of becoming, with the passage of time, synonymous with quality and point of reference for local producers.
Given the geographical location, most of the production is aimed at Prosecco. The grapes are harvested by hand, are cultivated, selected, vinified and bottled with great care and passion to give life to a full range of sparkling wines, white wines, red wines, dessert wines, and grappa and spirits.