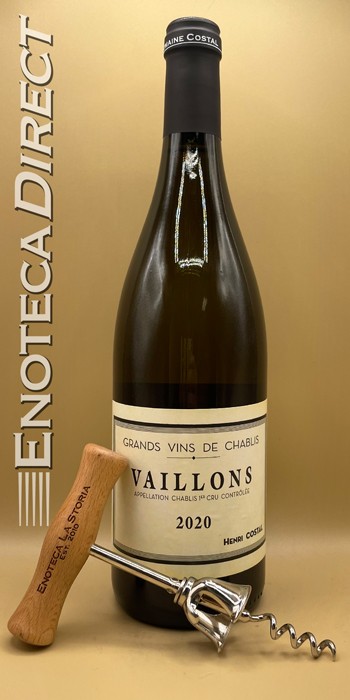 2020 Henri Costal Chablis 1er Cru 'Vaillons'
Burgundy, France
A stunning, hand-crafted premier cru Vaillons from 30-year-old, organically-farmed vines. Fermented with indigenous yeasts in stainless tank. After racking, wine goes through malolactic fermentation in 1/3 stainless tank, 1/3 neutral barrel (228 L), and 1/3 used demi-muid barrel (600 L).
This is classic Chablis: precise, pure, and driven. Velvety citrus fruit gives way to textbook chalk, slate, and stone, with just a hint of nutty savoriness on the finish.
Domaine Costal / Henri Costal is a unique collaboration between the well-known Chablis producer Domaine Jean Collet and Kermit Lynch. The project began with a simple barrel tasting with Kermit and led to a custom label, custom vinification, and bottling process exclusively for the American market. The end result of this first tasting was a terroir-driven Chablis from a single vineyard site called Truffières, loosely translated as "site where truffles grow."

In 2018, owner Romain Collet was digging through his family's archives and found the original label that his great-grandfather, Henri Costal designed and used when he founded the domaine. Romain proposed that this historical label be revived and use the Henri Costal name. In keeping with the desire to preserve historical European wine styles as well as labels, this was a natural fit. Beginning with the 2017 vintage, all wines from Kermit's collaboration with the Collet's will be labeled as Henri Costal.