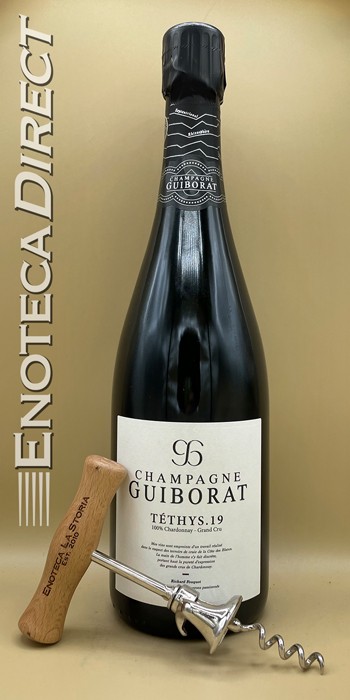 2019 Guiborat Fils 'Téthys.19' Extra Brut Grand Cru
Champagne, France
Guiborat Champagnes are among the most electric and mineral driven out there- this particular bottling, unique in their lineup, sees a bit of malolactic fermentation to slightly soften the zingy lemony citrus acidity that emanates from this wine. An incredible, pure expression of Chardonnay.
Practicing organic. 100% Chardonnay. Sourced from 4 parcels in Grand Cru villages in the Cote de Blancs. From Cramant – Les Bergeries (planted in 1984) and from Chouilly- Le Mont Aigu (planted in 1970 and 1979) and Les Caurés (planted in 1946 and 1998) along with 5th parcel, Les Briquettes (planted in 1969) from Oiry. Chalk is the dominant soil type in all his parcels though here there are some alluvial and clay top soils interspersed with the pure chalk. The grapes from each parcel are kept separate and vinified individually in stainless steel to keep the identity of each terroir. After fermentation the base wines have a lengthy elevage on their lees (at least 7 months) until assemblage and bottling the following Spring. In Richard's quest for an absolute minimum of intervention and transparency, malo is blocked on the base wines for every cuvee except this one- where a small amount is permitted. Tethys – named after the Greek goddess of the sea and the name of the ancient ocean which previously covered Champagne- emphasizes the pleasure and fruit of Chardonnay.
The Fouquet family has farmed small parcels in Cramant, Champagne since 1885. At the helm now is 5th generation Richard Fouquet and his wife Karine .
The Fouquets farm 8 hectares, most of which are grand cru holdings from the deep chalk of Cramant and Chouilly, as well as vineyards in Mardeuil on the other side of Epernay. The domaine's overall production is tiny, as grapes from 5 of these 8 hectares are regularly sold to the Champagne house of Laurent Perrier. Viticulture is focused on producing top quality Chardonnay from the two former villages with the rest of their holdings being Pinot Meunier from the latter. Farming is all done by hand, with aggressive pruning and low yields.
Vinification takes place in their modest home on the edge of Cramant. Mostly fermented and aged in steel, small lots are also aged in neutral cooperage and laid down in their chilly caves bored out of deep Cramant chalk.