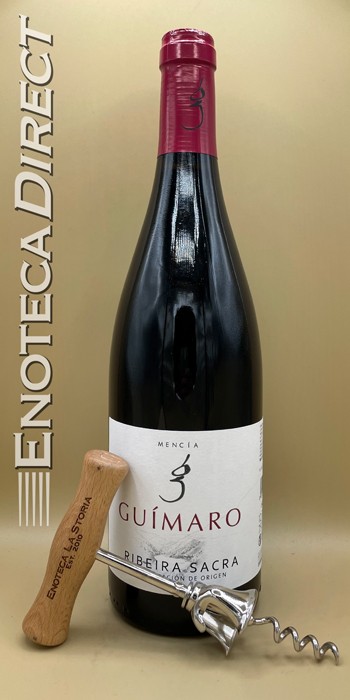 2021 Guímaro Ribeira Sacra Tinto
Galicia, Spain
Cultivated since Roman times in what is now Galicia, Ribeira Sacra's steep terraced vineyards are some of the most picturesque and treacherous to work in the world of wine - think Douro, Cote Rotie, or Mosel. Like those most dramatic terrains, winegrowing here is not for the faint of heart! This is 100% Mencía, the great red grape of Galicia. The farming at Guímaro is organic, and this Tinto comes from multiple plots of Mencía vines with an average age of 40 years old, located in and around Ribeira Sacra.
Tasting notes: This beautiful Mencía Tinto is done in a simple un-oaked joven style to showcase the grape's lush red fruit and supple texture. The nose has aromas of crushed flowers, herbs and peppercorn and the palate sings with bing cherry and wild bramble berry.
About Guímaro: Founded in 1991, Guímaro is a family affair, run by Pedro Rodríguez with the help of his parents, Manolo and Carmen. They farm about 20 acres of vines in the Amandi area, Ribeira Sacra's most prime subzone with south facing vineyards planted on slate, just above the river Sil. They also maintain a small finca of mixed agriculture, very common in Galicia, raising chickens, rabbits, pigs, and cultivating a sizable vegetable patch. Before 1991, the family produced small quantities of wine for their own consumption and sold their wine to local cantinas. With the creation of the Ribeira Sacra DO, the Rodríguez family began estate-bottling their wines. They named their winery Guímaro, which means "rebel" in Gallego, a nickname of Pedro's grandfather. Guímaro officially joined the appellation in 1996, one of the first wineries to do so. In the early 2000's Pedro met the great winemaker Raúl Pérez of Bierzo, who helped Pedro see the potential of his old vine holdings and to make significant improvements in the vineyard. Yields were reduced dramatically and all chemicals were eliminated. Old-fashioned winemaking methods were reclaimed as well: wild yeast fermentation, foot treading in open-top vessels, stem inclusion, working with low sulfur, and aging in used barrels. We can see why Pedro and Guímaro are rising stars in Ribeira Sacra!
Wine Specs
Appellation
Ribeira Sacra