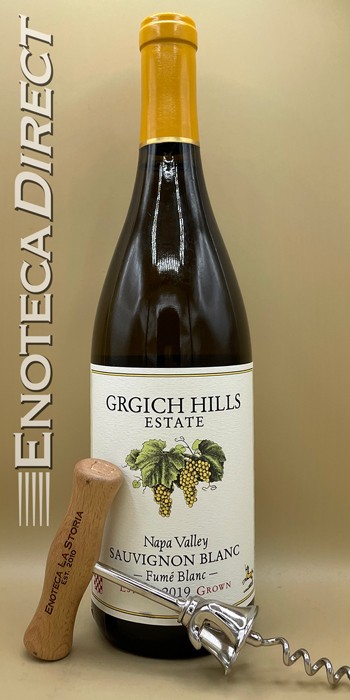 2019 Grgich Hills Estate Sauvignon Blanc 'Fumé Blanc'
Napa Valley, California
In 1968, Miljenko "Mike" Grgich went to work for Robert Mondavi as chief enologist, making the inaugural release of "Fumé Blanc." This elegant, dry style of oak-aged Sauvignon Blanc was named "Fumé Blanc" by Robert Mondavi, playing on the French word meaning smoke. At Grgich Hills Estate, Mike continued to make this elevated style of Sauvignon Blanc, paying homage to his former employer and friend. Using only native yeasts, a portion of the wine was fermented in 900-gallon French oak casks, called foudres, with the remainder in oak barrels. It was then aged for six months on its lees (the spent yeast) in neutral barrels.
Tasting Notes
This will tantalize your senses with notes of green pepper, snap pea, lime and star fruit. On the front palate, enjoy the fresh fruit flavors of lemon, lime, and green apple supported by an undertone of sea salt. This wine's chiseled texture, linear acidity, and long finish make it the perfect pairing with filet of sole, pork loin and savory goat cheese.
About Grgich Hills Estate
Miljenko "Mike" Grgich first gained international recognition at the celebrated "Paris Tasting" of 1976. Then, in a now-historic blind tasting, a panel of eminent French judges swirled, sniffed, and sipped an array of the fabled white Burgundies of France and a small sampling of upstart Chardonnays from the Napa Valley. When their scores were tallied, the French judges were shocked: they had chosen the 1973 Chateau Montelena Chardonnay, crafted by Mike Grgich, as the finest white wine in the world. Mon Dieu! The results stunned the international wine establishment and immediately earned Mike a reputation as one of the greatest winemakers in the world. The Paris Tasting served notice to the world that the California wine industry was on the move, and it laid the groundwork for the creation of Grgich Hills Cellar. After his victory in Paris, Mike sat down with Austin Hills and his sister, Mary Lee Strebl, and on Independence Day 1977, they gave birth to Grgich Hills. Mike, with his fierce commitment to making wines of the highest quality, began producing what immediately became their signature wine: the exquisite, richly complex Chardonnays that win awards and delight wine lovers across America and throughout the world.