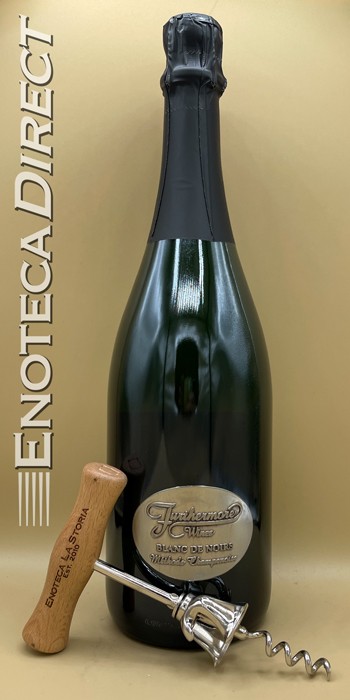 2019 Furthermore Brut Blanc de Noirs
Sonoma Coast, California
This is Furthermore's second Blanc de Noirs sparkling wine release, made in the Méthode Champenoise style from Pinot Noir grapes. The grapes were sourced 2/3 from Eden Vineyard and 1/3 from Tanuda Ridge Vineyard. This is also the first project taken on by head winemaker Ross Cobb right after he joined the Furthermore Wines team. Blanc de Noirs literallty means "white from black" and results in a white (or blush) wine produced from red grapes due to the juice having minimal contact with the skins. Méthode Champenoise means that the traditional methods of Champagne were used, with secondary fermentation occuring in the bottle and disgorgement of the lees in the bottle via a riddling process.
Tasting Notes
The wine is enjoyably crisp with small bubbles, leading with aromatic hints of fresh strawberry, grapefruit and orange blossom that evolves into light stone fruit flavors on the palate.
About Furthermore
Founded by two lifelong friends, Chad Richard and Bob Zeches, Furthermore Wines is a boutique new label that explores how Pinot Noir expresses itself throughout California. Since beginning the journey in 2006, the winery has grown to include several small-lot, vineyard-designated Pinot Noirs from as far south as Sta. Rita Hills in Santa Barbara and as far north as Yorkville Highlands in Mendocino County, each wine distinctively different and representative of the terroir and region from which it was grown.
The evolution of Furthermore continued in 2019, when Pinot Noir and Chardonnay virtuoso Ross Cobb took over as head winemaker and greatly elevated the already exceptional wine program. Ross brings more than 20 years of notable winemaking experience working at many great wineries including Williams Selyem, Flowers and his family winery, Cobb Wines.