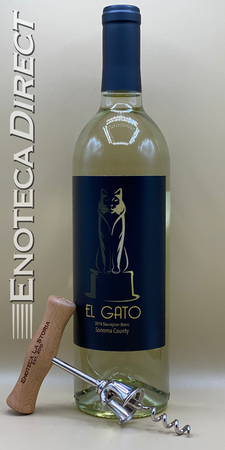 2019 El Gato Sauvignon Blanc
California
Refreshing and crisp, this aromatic Sauvignon Blanc is the perfect wine for patio sipping - light enough to enjoy poolside on its own, yet with more than enough substance to carry you through grilled veggie skewers, shrimp or other seafood fare. Will also pair well with herbed goat cheese and fresh veggies with creamy-dill dip. Tasting Notes
Citrus driven - with bright acidity, this wine is elegant and powerfully fruity - white peach, honeydew melon, citrus zest, and honeysuckle all combine on a rich creamy palate. About El Gato Wines
This wine comes to us via our old compadre, Joey "The Hat" Chiodo. Most of you know Joe. He was the "anchor" behind the bar in Los Gatos for, I don't know, seven or eight years? His friendly nature and genuine passion endeared him to pretty much every regular. The guy was like Woody at Cheers. Anyway, though Joe hasn't tread the boards behind the bar in awhile, he is still very much a part of the ELS family. He works for Marc & Paula, representing Girasole wines in the South Bay. He also started a project of his own, called Take Root, and has put together a few "private label" wines of his own that he is very proud of – and he should be – his Hammerhead and El Gato wines are, dare I say it? Surprisingly good – and very reasonably priced. This El Gato SB is one of his newest releases and we are proud to be able to partner with Joe to bring this wine to you. Again, he's one of the family, so it was not even a question of whether we'd partner with him, just a matter of when…so, here's a lovely California Sauvignon Blanc that hits all the right notes – not too grassy or exotic, but correct, clean, fresh and delicious. Nice job, Joey! Let the Cat roar!