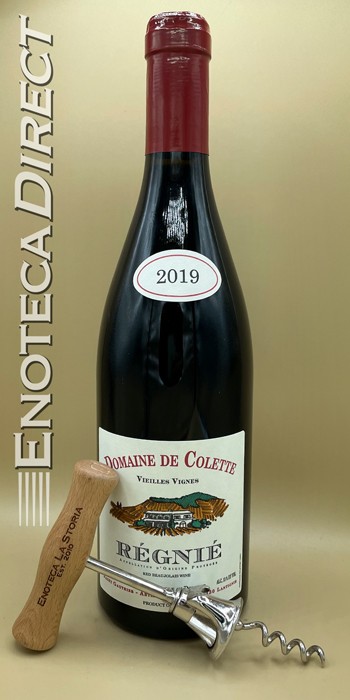 2019 Domaine de Colette Régnié Vieilles Vignes
Beaujolais, France
Another ridiculous value from Beaujolais! 100% organically-farmed Gamay, from vines on pink granite with an average age of 55 years (one plot is over 80 years old!). Just gorgeous fruit here balanced perfectly with floral notes and the slightest bit of structure, and just as good with food as on its' own.
Tasting Notes: This has all the hallmarks of classic, balanced Beaujolais. It opens with bright fruit aromas of strawberry, cherry, and raspberry along with rose petal and mineral spice. The fruit and floral flavors come through beautifully on the palete with a gravelly salinity and just a perfect amount of tannin. Pair this with charcuterie and creamy cheese, poutry, mushrooms, just about anything really!
About Domaine de Colette: Domaine de Colette is located in the small village of Lantignié, regarded as the top village in the cru of Régnié, and less than 1 kilometer from the border of Morgon. It is owned and run by the humble Jacky Gauthier (with his wife Evelyne), whose family has been making wine for several generations. It was his father René who officially created Domaine de Colette in 1953. Gauthier began studying enology in the late 1970's at the tender age of 17, coming to work with his parents' on their then 8 hectares of vineyards. Since taking over the estate in the 90's, he has purchased additional vineyards in Fleurie and Moulin-à-Vent, thus bringing his total holdings to 14 hectares of vines.
The soils at Colette are worked organically in an effort to promote healthy and vigorous root systems. Only vegetable-based fertilizers are used. They shallow-plow between the vines during plant dormancy to force the roots down into the subsoil (and thus hopefully take on more of the terroir characteristics of each cru). They limit vine treatments during the year and intervene only when completely necessary. A green harvest is performed to give more concentrated grapes. Harvest is by hand, and only healthy grape clusters are emptied into the tank.
93 points, James Suckling. "The subtle red-fruit and floral aromas neatly fill out the medium body, the mineral character and gentle tannins giving this Régnié quite some depth and length. Excellent balance and good aging potential. Drink or hold."