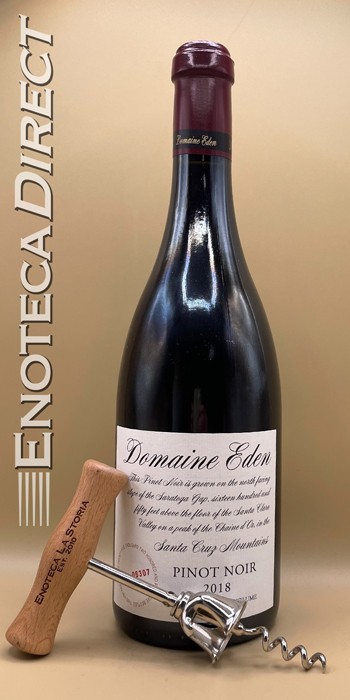 2019 Domaine Eden Pinot Noir
Santa Cruz Mountains, California
Definitely one of the top values in outstanding, old school style Pinot Noir. This Pinot Noir is a mosaic of different selections and clones grown at Domaine Eden: Dijon clones 777, 667 and 828 reside alongside the historic California selections Mount Eden, Calera and Swan. Each parcel is farmed to Mount Eden's strict standards of sustainability, dry farming and low yields.The same exacting methods employed for the Mount Eden Estate wines are used: natural indigenous fermentations – both primary and secondary, French Burgundy barrels, no fining, filtration or any other manipulation. Although a mere mile away from Mount Eden as the crow flies, the terroir here is different and it shows. Medium ruby color, complex, earthy red fruit nose, the wine has a suave texture on the palate with richness and balancing elegance. This is a classic Pinot Noir reflective of its unique peak.
91 points, Wine Enthusiast. "Cranberry, crumpled thyme, dusty earth and a hint of fresh oregano show on the nose of this bottling. There's a sandalwood kick to the palate, which is loaded with dark plum and earthy herb flavors."
Domaine Eden is a mountaintop wine estate purchased by Mount Eden Vineyards in 2007. Modeled after Mount Eden, it was founded and built by the late Tom Mudd in 1983, who initially planted the Mount Eden clonal selections of Chardonnay and Cabernet Sauvignon, which evolved to include Pinot Noir from various Dijon and California selections. This is the former home of Cinnabar Winery.
This property inspired a new wine brand, Domaine Eden, which focuses on Pinot Noir and Chardonnay from this special site and Bordeaux varieties from Mount Eden's larger home, the Santa Cruz Mountains.