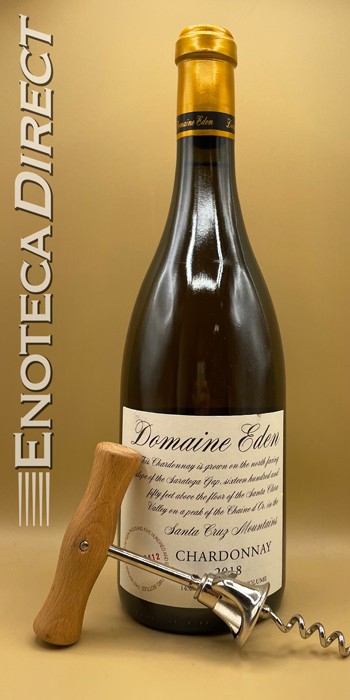 2019 Domaine Eden Chardonnay
Santa Cruz Mountains, California
100% Chardonnay. Hand harvested on September 12 and 13, 2019. The fruit was harvested at 22.0° Brix, 3.40pH, and an astounding 8.0g/l total acidity (that's really high!!). Fermented with native yeasts and aged in a variety of French oak barrels from 1-5 years old. It spends 10 months 'sur lie' in barrel and went through full malolactic fermentation. Bottled in July 2020. Alcohol is 14% and only 1,666 cases were made.
"Fairly intense nose showing some ripe citrus fruit but mostly notes of flinty minerality, spicy herbs, and nutty, creamy, oak notes. Since this is a young wine, the oak notes are still showing prominently, but it's not the kind of popcorn butter you might expect of an oaked California Chardonnay. In fact, the wine is so powerful and intense in both fruit flavors and acidity that it needs this oak to provide enough backing. The palate has excellent acidity and a lean but super dense texture, with similar flavors to the nose. Will honestly be better in a year or two.The high acid, herbal notes, crazy texture and nutty, slightly toasty barrel overtones of this wine make it a great pairing for any sort of grilled rich fish, vegetables or white meat dish, from chicken to pork. I like the idea of grilling to complement the intensity of the wine. Something like a crab or lobster bisque would be delicious, or a savory frittata." -Ryan Smith, Enoteca Direct
76% of the fruit comes from the Domaine Eden Vineyard; founded and planted as the original Cinnabar Winery by Tom Mudd in 1983 and modeled after Mount Eden itself. You actually get to the vineyard by entering a dirt road into Sanborn Park soon after leaving Saratoga on Highway 9 going ups to Skline. The viticulture at Domaine Eden is approached with the same level of naturalness and sustainability as Mount Eden's estate vineyards. The soils here, however, are different from the estate's Franciscan shale so even though Domaine Eden is a mere mile away "as the crow flies", the wines express more varietal fruit with expansive mid-palate flavors than the soil-driven minerality of Mount Eden estate wines.
24% of the fruit comes from declassified barrels of Mount Eden Estate Vineyard, one of if not the greatest Chardonnay vineyards in California. You get to this vineyard by entering Mount Eden's driveway on Mt. Eden Road off of Pierce Road in Saratoga. It's a bit of a harrowing drive up 2.5 miles of dirt road, but you finally come to one of the most stunning views in the South Bay. There are 20 acres of mostly Bordeaux varietals planted on the lower slopes and 20 acres of Pinot Noir and Chardonnay planted around the original craftsman house that Martin Ray built when he originally settled and planted the site. The slopes are steep, the elevation is high, and the soil is a thin, infertile Franciscan shale.
Harvest normally begins in the first weeks of September and finishes around the end of October, occasionally going into early November. The combination of a long growing season and naturally low yields allows slow, steady maturation of the grapes and the concomitant intensification of their flavors. This process is enhanced by vertically training the vines to maximize the exposure of the grape clusters to sunlight and by thinning the crop, when necessary, to ensure yields do not exceed two tons per acre.