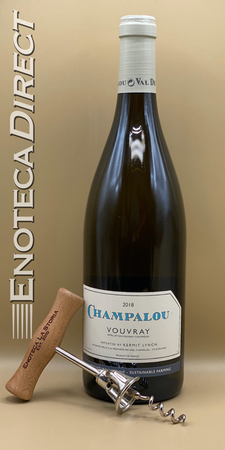 2019 Champalou Vouvray
Loire Valley, France
100% Chenin Blanc from 35-year-old vines. Grapes are hand-harvested and wine is fermented with indigenous yeasts in stainless steel tanks and then aged on the fine lees for 11 months before bottling.
This Vouvray is dry and has an aromatic nose of lusciously ripe fruit, honey and white flowers, with electric acidity and stony minerality running through the palate. Impeccably balanced, this wine is a joy to drink by itself and very versatile.

Perfect partner for Asian cuisine, poultry, certain fish dishes and savory, non-acidic vegetarian food.

"The Champalou family farms twenty-one hectares of vineyards on clay, limestone, and siliceous soils. They embrace sustainable farming while also integrating the use of the lunar calendar more traditionally associated with organic viticulture. The soils in their vineyards are rich, deep, and aerated though regular plowing. Cover crops are planted in between vineyard rows to help with excess water absorption and to encourage microbiotic activity in the soil. The Champalou house style produces wines of great elegance and tenderness, highly aromatic with impeccable balance. No one comes close to copying their distinct style.
Didier and Catherine's daughter, Céline, has recently joined the domaine after spending her internships in New Zealand, South Africa, Languedoc, Corsica, and Canada. Daughter Virginie lives in London, and is also in the wine business. There is no question that the tradition and quality for which this domaine is known will continue for many years to come." - Kermit Lynch Imports