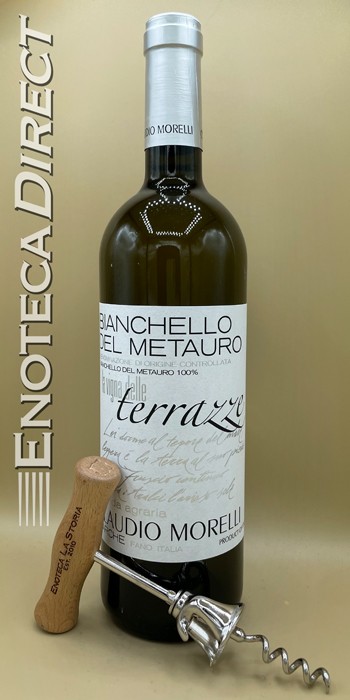 2019 Claudio Morelli Bianchello del Metauro "La Vigna delle Terrazze"
Le Marche, Italy
100% Bianchello from a single vineyard near the Adriatic coast of Marche, at around 100 meters above sea level. "La Vigna delle Terrazze" ("the terraced vineyards") comes from the oldest Bianchello plots just outside Fano, which were planted in the 1970s. The soil is tuff (limestone) and sand, and the site is very well ventilated by breezes that come directly off the Adriatic. No oak or malolactic fermentation; the wine is aged on the fine lees for about six months before bottling.
Tasting Notes: Vivid, electric white wine with a slight salty tang, as is typical of coastal whites around the world. It shines a pale straw-gold in the glass, with silver and light green reflections, and the aromas are a perfumed jumble of green fruits and herbs. Aromas of green apple, melon, citrus peel, chopped herbs, a hint of pine, and a blast of sea spray carry over to the medium-bodied palate, which is full of live-wire acidity and a dusting of minerals. Drink with seafood, or as a dry aperitivo.
About Claudio Morelli: Claudio Morelli is a wine-grower in the little coast town of Fano, south of Pesaro, in the Marche. The Morelli family farm goes back generations and traditionally produced not just wine grapes but olives and other fruits and vegetables. In the 1950s, the focus shifted almost exclusively to wine and olive oil, and today Claudio Morelli farms 22 hectares of vineyards and 400 olive trees. Bianchello/Biancame, which is thought to be a branch of Italy's vast Trebbiano family, is Morelli's main preoccupation, although he grows Sangiovese, Montepulciano, and several other red grapes as well. The soils in the area are a mix of hard volcanic tuff and sand, and the proximity of the vineyards to the Adriatic provides ample ventilation, allowing for extended hang time of the grapes.