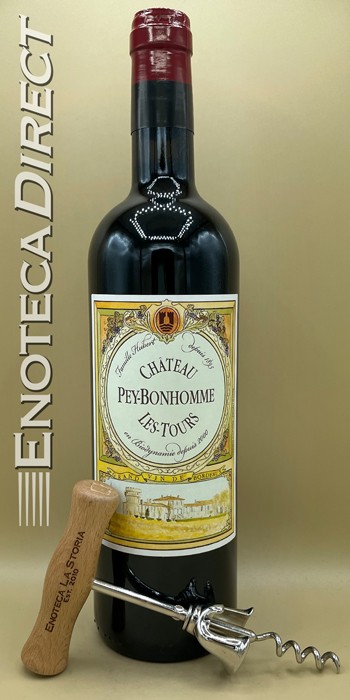 2019 Château Peybonhomme Les-Tours Blaye Côtes de Bordeaux
Bordeaux, France
Joey C.'s favorite new everyday red! 70% Merlot, 20% Cabernet-Franc,10% Malbec from Blaye Côtes de Bordeaux. The limestone-clay soils of this right-bank region are perfectly suited to rich, supple Merlot-based wines. Château Peybonhomme Les-Tours has been practicing organic and biodynamic framing since 2000. The wine is raised entirely in cement, no oak used. Fermentation using yeast native to the estate, temperature control in concrete vats. No additions apart from limited quantities of sulphur (40mg/l). No fining; bottled on a fruit day of the biodynamic calendar.
Tasting Notes: This is Chateau Peybonhomme's main wine showing just what Right Bank Bordeaux can be at incredible value. The nose has a wide range of red and dark fruit flavors: wild berries, cassis, and black plums along with subtle notes of spice. The palate is full and yet perfectly balanced with smooth fruit, savory herbs, and just enough tannin. This can be enjoyed right away, and opened with all sorts of meats and mushroom dishes.
About Château Peybonhomme Les-Tours: The Hubert family settled at Château Peybonhomme-Les-Tours in the village of Cars near Blaye in 1895, and six generations have followed since. The estate is located on a hill overlooking the estuary, with the vineyards on the slopes. Catherine, Jean-Luc, Rachel and Guillaume Hubert are a tight-knit family devoting all of their energies to producing wines and respecting the site and its environment. Catherine comes from a family of winemakers -- it was her great-grandfather who first acquired the estate in 1890 when it was classified as a 'Premier Cru Bourgeois'. Jean-Luc Hubert is descended from a long line of sailors who navigated the Gironde in the famous 'scow' boats and specialised in wine transportation. Guillaume, a nature lover with a passion for flora and fauna, joined the family business in 2007 after completing environmental and ecological studies. Having qualified as a pharmacist, his sister Rachel chose to join her brother in 2012 and together take up a new challenge, primarily based on producing high-quality natural wines.