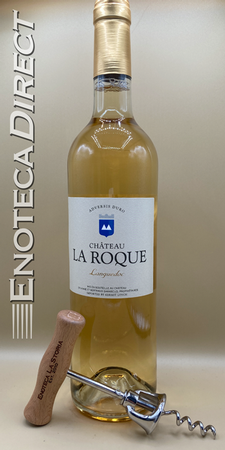 2019 Château La Roque Blanc
Languedoc, France
30% Marsanne, 30% Rolle, 25% Grenache Blanc, 15% Viognier/Roussanne, all from 30 year old vines and fermented with native yeasts. About 80% of the wine is aged in cement tanks, with 20% in demi-muids.
Tasting Notes
A fresh and mineral nose that develops beautiful aromas of yellow fruits, peach and apricot. Rich in the mouth with a lovely aromatic expression. Elegant and stylish long finish. This wine goes well with poultry, grilled fish, rice dishes, and kabobs.
About Château La Roque
The picturesque landscape surrounding the historic Château La Roque appears largely unchanged from how it must have been two thousand years ago. Ownership has changed hands many times since the Romans were first here, yet the soul of this special place remains in tact. Romans were said to have planted the first vines, and Benedictine Monks created the sturdy vaulted-ceiling cellars that still house the bottles today. Winegrowing resumed in the thirteenth century when the de la Roque brothers planted new vines. By the 15th century, another branch of the de la Roque family added glass blowing to the farm's production. Today, Château La Roque is in the capable hands of Cyriaque Rozier, who converted the domaine to organic (certified in 2004) and now biodynamic (certified in 2011) viticulture, as planned by his mentor, previous owner, and Languedoc legend, Jack Boutin. Cyriaque makes the wine both here and at Château Fontanès. Though the property has responded to circumstance, its destiny seems irrevocably intertwined with its vines.