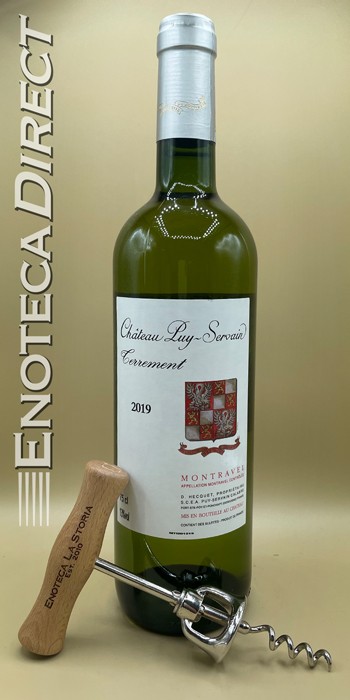 2019 Château Puy-Servain Montravel Blanc
Montravel, France
A blend of 90% Sauvignon Gris (ever seen that one?) and 10% Semillon grown sustainably on calcareous clay-limestone soils. The fruit is hand-picked and cold-fermented before a short time aging on the lees in stainless steel tanks.
Tasting Notes
This wine is loaded with crisp, fresh fruit and screams grapefruit and ripe citrus fruits through the finish. Slight honey and floral notes from the Semillon add character without detracting from the freshness of the wine. Medium bodied, soft and round, this is like drinking a cool spring day.
About Château Puy-Servain
East of the hills of St. Emilion, Bordeaux, about twenty kilometers from Bergerac, the vineyards of Montravel cling to hills bathed in sunlight. The estate takes its name from the locality, which means Summit (Puy), windy or served by the wind (Servain). The vines that undulate on the slopes of these hills enjoy particularly favorable sunshine. The ideally drained soils cling to a limestone base that favours the minerality of the wines.
Château Puy-Servain is owned by Daniel Hecquet, one of the regions best and most innovative winemakers. Hecquet is known throughout greater Bordeaux for producing among the highest quality and freshest white wines in the appellation. The property represents 50 hectares of vineyards and produces wines of different appelations: Montravel, Haut Montravel, Bergerac and Pécharmant. It offers a beautiful point of view of the Dordogne valley and is the departure of nices hiking trails.