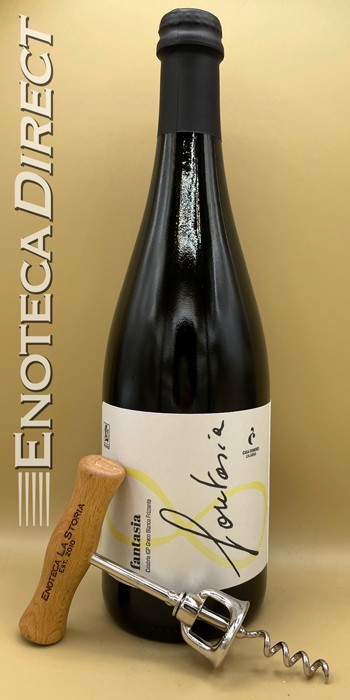 2019 Casa Comerci Greco Bianco Frizzante 'Fantasia'
Calabria, Italy
This is SO exciting! Paula and Marc have been very busy this past year, searching for new producers to add to their portfolio. In particular, Paula and I, both being of Calabrese heritage, have been hoping, praying, scrambling to find a producer from Calabria with whom we could partner. It has not been easy. Calabria is not a hot bed for cutting edge, exciting producers. Don't get me wrong, there are some – we featured a white from Librandi in the Italiano club last month. Librandi has long been the standard-bearer for Calabrian producers for years. Statti is another producer of note. However, Paula and Marc, through their connections in the Old Country, have discovered a jewel in our homeland! Like most of the other producers in the Girasole portfolio, Casa Comerci is a small, family-owned and run operation. They are proud of their heritage and dedicated to honoring their family and the land. These are honest, passionate, hard-working people – and their wines show it! That's why we were so grateful to forge this relationship with them. Paula and Marc took a trip to Italy back in December and visited the family (and their estate) in person. If there wasn't a special connection and mutual respect before, there sure is now. According to the Levitts, their visit was magical – the family, the estate and their wines were all of a singular quality that went far beyond their wildest expectations. Here's to a long and prosperous relationship together! -Mike Guerra, Enoteca Direct
100% Greco. A lovely Pet-Nat style - naturally refermented in the bottle (without added sugar) - sparkling wine from Calabria. 100% hand harvested. Crushing and destemming and soft pressing and subsequent fermentation at a controlled temperature conducted by the yeasts naturally present on the grapes. Maturation and refinement in bottle for about 6 months.
A pure expression of Greco Bianco, this slightly sparkling wine offers tangy aromas of citrus, white peach and honeydew melon. The finish is zesty and tangy.
A lovely, fresh and juicy wine. Drink it on its own, as an aperitif, with most salads and with simple fish, poultry and veggie dishes. Pair this wine with ceviche, gremolata sauces, grilled swordfish, or Sicilian involtini.