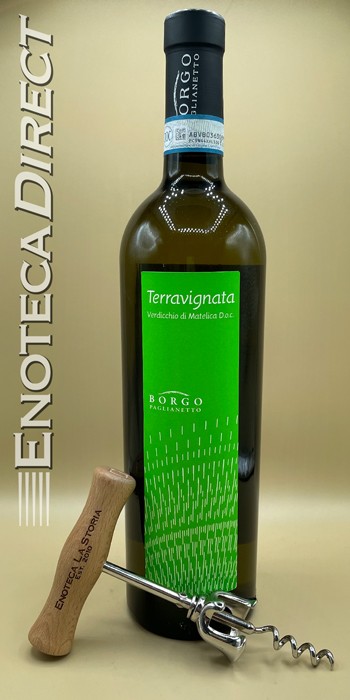 2020 Borgo Paglianetto 'Terravignata' Verdicchio di Matelica DOCG
Marche, Italy
Verdicchio ("ver-DEE-kee-oh") - One of Italy's greatest native white grapes - and one of the world's best white wine values!
100% Verdicchio. Organically farmed. Fermented and aged in stainless steel.
Tasting Notes
Fresh and tangy, with aromatic accents of lime blossom and ground ginger, showing flavors of McIntosh apple, wet stone and lemon peel. Light-bodied and sleek, presenting an almond-tinged finish. Food Pairing: Verdicchio is always a citrusy and high acid white wine, which makes it one of the world's great fish wines. It is particularly good with raw fish preparations such as sushi and crudo. It will also shine with baked or poached fish or fried fish (yum!) and seafood pasta, polenta, pesto, risotto, savory soups and vegetable dishes.
About Borgo Paglianetto
Borgo Paglianetto, is a 25-hectare estate that lies on the hills of Matelica in a closed valley, called Alta Valle dell' Esino, This unique valley represents the only case in the Marche region that has an unusual North-South orientation, which is a fundamental factor contributing to the creation of microclimate that allows the cultivation of grapes of the highest quality - including
ORGANIC farming. When compared to the more famous region of Castello di Jesi, Metalica wines are noted for their fresh, fragrant and harmonious character, displaying a slightly higher-toned characteristic than Verdicchio dei Castelli di Jesi, which are typically much rounder and mellower.
Wine Specs
Varietal
Other White Varietals