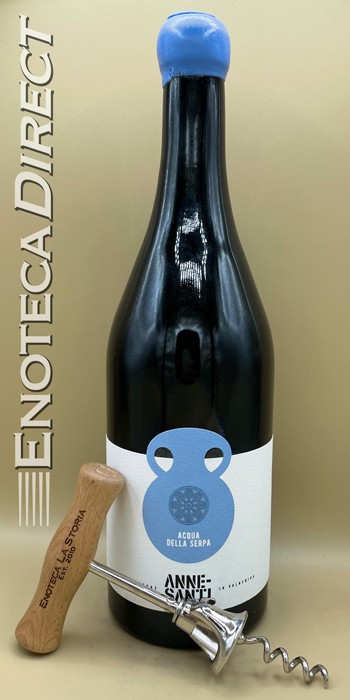 2019 Annesanti Acqua Della Serpa
Umbria, Italy
Francesco Annesanti is a passionate and artistic man who makes pure natural wines- practicing organic farming, using only native yeasts, stainless steel for fermentation and aging, minimal sulfur and no fining or filtration.
20% Grechetto, 20% Malvasia, 20% Pecorino, 20% Trebbiano and 20% other local grapes.
Fermented in amphora with skin contact, without temperature control. Aged 10 months in 400L terracotta amphora and then 3 months in glass demijohns. Bottled without filtration or clarification. Only 500 bottles were produced!
Straw yellow with golden nuance. Delicate aromas of white flowers, citrus fruits, mint and other herbs along with some salty minerality. Tastes surprisingly fresh and vibrant, with flavors echoing the nose. Has some structure from the extended skin contact and will really shine when paired with food.
Not much info out there on this special man and his winery. What follows is a Google translation of content from his website…sorry, my Italian is too rusty to translate it myself. Though a bit rough, you can get a sense of the passion and poetic spirit of the man:
"My project has deep and distant roots. Deep as it is, deep the bond that my family has always had with the land. My name, Francesco, the name of both my grandparents, to whom I owe what I am.
After obtaining a degree in Natural Sciences and various work experiences, in 2012 I undertook the renovation of the family stable to build a wine cellar. This winery has a very long memory, I look at it and I can still smell the heat and the cows and calves that have warmed it for more than half a century, and now, after several generations, it is getting used to the scents and warmth of wine. The family-run company consists of about twenty hectares of land in the municipality of Arrone, a few kilometers from the Marmore Falls, in the heart of the Valnerina.
Like almost all the peasant properties of the past, which aimed at self-reliance, it incorporates land cultivated with olive trees, arable land for the production of cereals and legumes, and vineyards.
Looking with great interest at this non-sectorial way of structuring the farm of the past, where the farmer was in tune with nature and respected its rhythms, I am starting to look at biodynamics, and to study all those delicate balances that exist between man animals and plants."