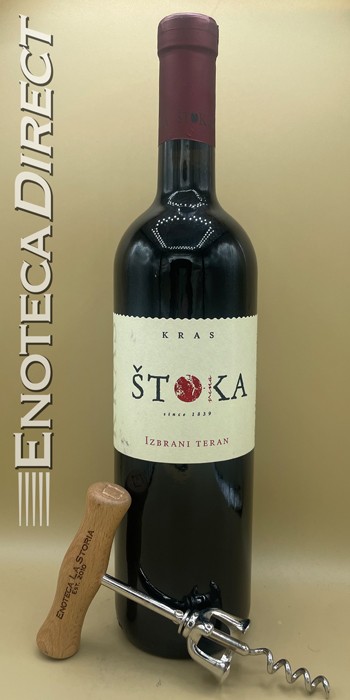 2019 Štoka Izbrani Teran
Kras, Slovenia
Historically, Teran from Kras has been prized for its medicinal properties, it is one of Slovenia's only wines of protected origin. Outside of Kras, the Teran vine is known as Refošk. Averaging 20 years, vines are mostly mature, single guyot trained and planted to 5000 plants per hectare. Yields are severely restricted. Green harvest is typically performed in the Spring and then again just before verasion. All vineyards are dry-farmed, fertilized only with cow manure when necessary, and worked by hand. Grapes are hand harvested, sorted, de-stemmed, and fermented with native yeasts in temperature controlled stainless steel. Teran is aged in large used oak barrels. "Izbrani" could be compared to the Italian "Classico" designation.
Blood red in color, briny, and amaro scented with Alpine forest fruits and Mediterranean herbs, this wine is perfumed with plenty of natural acidity. Naturally high in resveratrol, lactic acid, and iron, Teran has a medicinal history dating back to Roman Times. Traditionally served with cured meats, and salty rare steaks, legs of pršut (Slovenian Prosciutto) even hang in the caves used to age this wine.
The Štoka farm is located north-east of Trieste about 5 miles from the Adriatic in the village of Krajna Vas. The Kras, or "Carso" as it is called in nearby Italy, is Europe's first recognized cross border wine region, the two countries even adhere to similar production regulations. Historically oak forests dominated the land until the Venetians deforested nearly everything to build ships and city of Venice. The resulting erosion and the famously strong winds called the "burja" caused huge amounts of topsoil to simply blow away. People learned how to build stonewalls called "griže" to protect against the wind and small manmade lakes to gather rain called "kali" to keep crops alive. Farmers, including the Štoka family, even learned to transport soil to naturally protected locations.
In addition to growing grapes and making wine, the Štoka family raise cattle and pigs. The pršut, or air-dried ham they produce is the ultimate compliment to their wines. Primož Štoka bottled his first wine 1989 just before Slovenia's separation from former Yugoslavia. Today, his son Tadej, works alongside him in the vineyards and cellar.