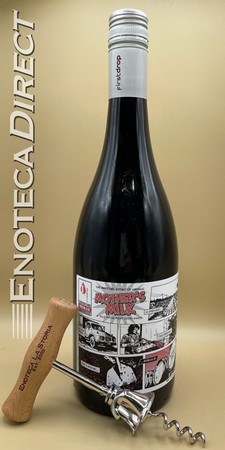 2019 First Drop 'Mother's Milk' Shiraz
Barossa Valley, Australia
Juicy and vivid, bursting with cherry and cranberry flavors that are smooth and generous. Hints of vanilla and mocha smooth out the details, finishing supple and creamy. Good to the last drop!
There are some wines which are made to be puzzled over, savored, and discussed… and there are those wines which are made to be drunk, enjoyed, and shared. First Drop Wines, one of Barossa's most talked-about and rapidly rising wineries, deals very much so with the latter. That's not to say that the wines made by best friends Matt 'Gantos' Gant and John 'JR' Retsas lacks refinement or subtlety - far from it, in fact. First Drop proves that Australian wines really are at their best when they straddle the worlds of sophistication and drinkability, and reveal heaps of flavor, aroma, and expression without leaving you feeling confused. How do they manage it? Well, Matt and John spend their time seeking out the best grapes grown in some of Australia's most unique vineyards, and make their wines with a no-nonsense, unpretentious, and back-to-basics approach that hits the spot every time. 100% Shiraz. The fruit is crushed/destemed and fermented at temperatures ranging from 20-25°C for 8 days on skins. The ferment is managed by a variety of techniques, including 'aerative pump overs' and 'drain and returns' which assist in extracting color, ?flavor and tannin from the grapes. At the end of fermentation, it is drained/pressed, and transfered to 3 and 4 year old French oak hogsheads and the wines mature sur lie for 15 months.
94 points, James Suckling. "This is a blend of three vineyards in the Barossa Valley and one in Eden Valley. Aromas of blackberry, dark chocolate and tar here with a touch of licorice and dark plum. The palate has a velvety texture with dark plum, blackberry and dark chocolate. Bold flavors here."

Wine Specs
Appellation
Barossa Valley